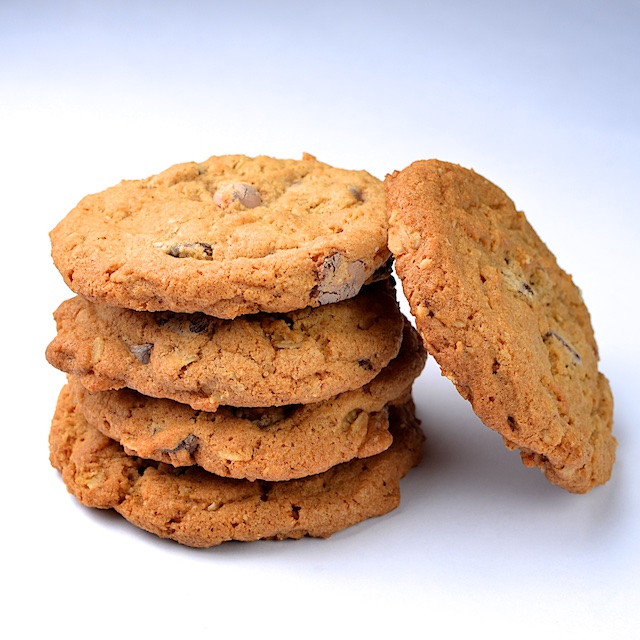 I have been making these cookies for a while now and they're delicious. I found the recipe on the back of a bag of King Arthur flour. I love the addition of oats to a good chocolate chip cookie.
If you cook these according to the instructions, leaving the centers of the cookies looking a little shiny (or underdone) when you take them out of the oven, you'll end up with a chewy cookie. The last time I made them, I cooked them a little longer and I ended up with nice crispy cookies. Both ways are good, it just depends upon your preference.
These cookies have a lot of chips. If you're a chocolate chip fan, this recipe is for you. The next time I make these, I'm going to try cutting the chips by a half cup.
I brought a batch of these cookies on a ski weekend with friends, and they were a big hit. They received rave reviews.
Chocolate Chip Oatmeal Cookies
Recipe from King Arthur Flour

1 cup (16 tablespoons) unsalted butter, at room temperature
1 cup light brown sugar, packed
1/2 cup granulated sugar
1 large egg, at room temperature
1 large egg yolk, at room temperature
1 tablespoon vanilla extract
2 cups King Arthur Unbleached All-Purpose Flour
1 cup quick-cooking or old-fashioned oats
1 teaspoon baking powder
1 teaspoon baking soda
1 teaspoon kosher salt or 3/4 teaspoon regular table salt
3 cups semisweet chocolate chips

Preheat the oven to 325°F. Line several cookie sheets with parchment paper, or lightly grease with non-stick vegetable oil spray.

Beat together the butter and sugars until smooth.

Add the egg, egg yolk, and vanilla one at a time, beating well after each.

Whisk together the flour, oats, baking powder, baking soda, and salt, and add to the butter mixture in the bowl.

Mix until everything is thoroughly incorporated. Scrape the bottom and sides of the bowl, and mix briefly.

Stir in the chocolate chips.

Decide what size cookies you want to make. A muffin scoop (1/4 cup) will make 20 large, palm-sized cookies. A tablespoon cookie scoop (4 teaspoons) will make 50 medium (2 3/4″ to 3″) cookies; and a teaspoon cookie scoop (2 teaspoons) will make 100 small (2 1/2″) cookies.

Scoop the dough onto the prepared baking sheets, leaving about 1 1/2″ to 2″ between cookies.

Bake the cookies for 12 to 15 minutes, until they're a light golden brown, with slightly darker edges. Their middles may still look a tiny bit shiny; that's OK, they'll continue to bake as they cool on the pan.

Remove the cookies from the oven, and as soon as they're set enough to handle, transfer them to racks to cool.

Yield: 20 to 100 cookies, depending on size.

One year ago: Sugared Pretzel Cookies
Two years ago: Carrot Soup with Ginger and Lemon
Three years ago: Zvi's Cinnamon Swirl Bread
Four years ago: Roasted Butternut Squash
Five years ago: Parmesan Cheese Crackers
Six years ago: Cardamom Spritz Cookies
Seven years ago:: Chocolate Chip Banana Bread

Print This Recipe