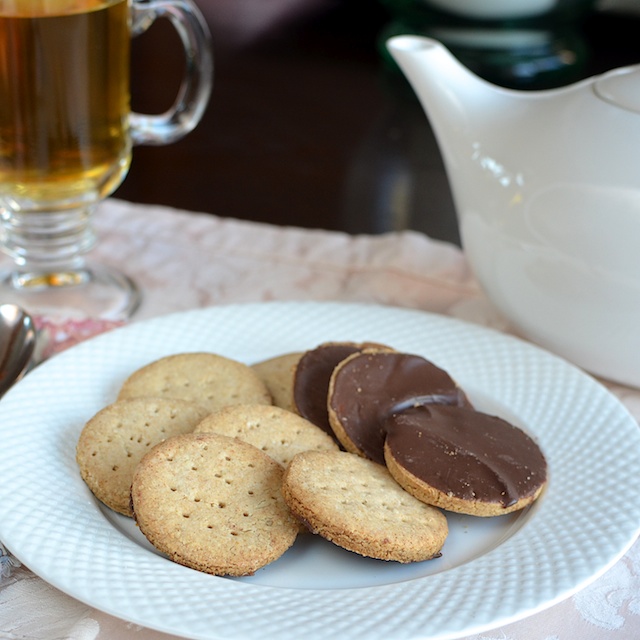 These cookies remind me of British biscuits called HobNobs by McVities.  They're delicious, but not incredibly sweet.  When you eat one, you'll crave a cup of tea.
These were easy to make. All you need is a food processor which processes the dough quickly. I found the dough to be a bit crumbly, but I was able to roll it out with no trouble. Once I rolled the dough and cut out the cookies, I took the remaining dough and rolled it again. I kept doing this until all of the dough was used.
You want to make sure that all of your dough is the same thickness, or the cookies won't cook at the same rate. I had a couple of cookies that were thinner than the others and they browned much more quickly than the rest of the cookies.
You can dip these cookies in any type of melted chocolate, milk, dark or white. I chose dark or semi-sweet chocolate, which was delicious.
Chocolate Covered Digestive Biscuits
Recipe from Carrie Vasios at Serious Eats:Sweets

1/2 cup old fashioned rolled oats
1 1/2 cups whole wheat flour
1/2 cup (2 1/2 ounces) all purpose flour
1/2 teaspoon salt
1 teaspoon baking powder
8 tablespoons unsalted butter, diced
3/4 cup confectioners sugar
1/4 cup milk
3 1/2 ounces dark or milk chocolate

Adjust oven rack to upper-middle and lower-middle positions and preheat oven to 350°F. Line two baking sheets with parchment paper or a Silpat mat.

Put oats in the bowl of a food processor and pulse until coarsely ground, about 5 pulses. Add whole wheat flour, all purpose flour, salt, and baking powder and pulse to combine. Add butter and pulse until butter is size of small peas. Add sugar and and milk and pulse until the dough comes together in a ball.

Lightly flour a clean work surface and roll dough out to 1/8-inch thick. Prick dough all over with a fork. Cut out circles and transfer to prepared baking sheets. Bake cookies until golden, about 20 minutes. Let cool 5 minutes on sheets then transfer to a wire rack to cool completely.

When cookies are cool, melt chocolate in a double boiler over simmering water or in the microwave. Dip each cookie in the melted chocolate so that one side is completely covered, using a knife to help spread chocolate if needed. Put coated cookies back on wire rack and let chocolate harden completely before eating.

One year ago: Candied Bacon
Two years ago: Barley and Wild Rice Pilaf with Pomegranate Seeds
Three years ago: Crab Meat Gratin
Four years ago: No-Bake Chewy Granola Bars
Five years ago: Spritz Cookies

Print This Recipe