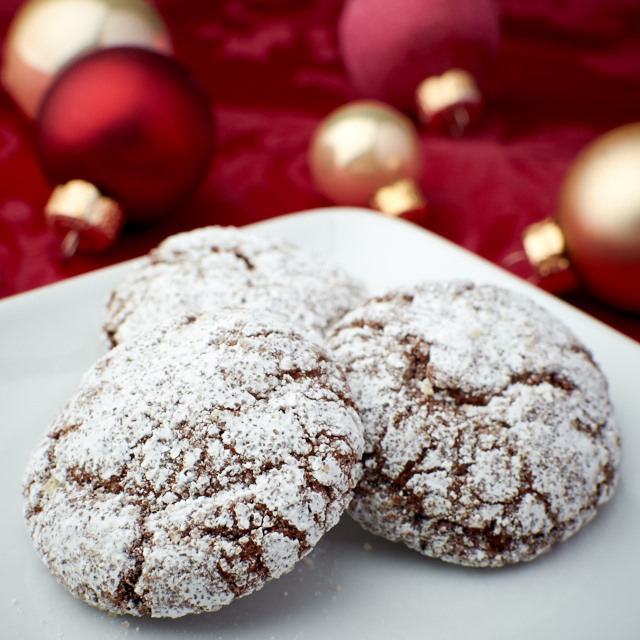 My husband loved these chocolate crinkle cookies. Because they're made with chopped chocolate, cocoa powder and espresso powder, they have a really rich, chocolaty flavor. I have made cookies like these before, and have noticed that as time passes, the powdered sugar hasn't stayed a bright white. It has faded into the cookies. With these cookies, there's a double coating of sugar before they bake, first granulated, then powdered. That seems to be the trick to getting the powdered sugar not to melt into the cookies. The cookies in this photo are over a week old. We didn't have a chance to photograph them when I first made them, so we saved a couple for a photo. See how white the sugar is on the outside even though they're not fresh?
I didn't have espresso powder on hand, so I used instant coffee granules instead. The instant coffee didn't mix smoothly into the batter like espresso powder would have, but it didn't affect the final product at all. The cookies were delicious.
The original recipe suggests that once the batter is mixed, you leave it at room temperature for 10 minutes. My batter didn't have enough structural integrity, so I had to chill mine for about 15 minutes in order to be able to roll it into balls.
These cookies look great on a holiday cookie platter.
Chocolate Crinkle Cookies
Recipe from Cook's Illustrated

1 cup (5 ounces) all-purpose flour
1/2 cup (1 1/2 ounces) unsweetened cocoa powder
1 teaspoon baking powder
1/4 teaspoon baking soda
1/2 teaspoon salt
1 1/2 cups packed (10 1/2 ounces) brown sugar
3 large eggs
4 teaspoons instant espresso powder (optional)
1 teaspoon vanilla extract
4 ounces unsweetened chocolate, chopped
4 tablespoons unsalted butter
1/2 cup (3 1/2 ounces) granulated sugar
1/2 cup (2 ounces) confectioners' sugar

Adjust oven rack to middle position and heat oven to 325 degrees F. Line 2 baking sheets with parchment paper. Whisk flour, cocoa, baking powder, baking soda, and salt together in bowl.

Whisk brown sugar; eggs; espresso powder, if using; and vanilla together in large bowl. Combine chocolate and butter in bowl and microwave at 50 percent power, stirring occasionally, until melted, 2 to 3 minutes.

Whisk chocolate mixture into egg mixture until combined. Fold in flour mixture until no dry streaks remain. Let dough chill in the refrigerator for at least 15 minutes.

Place granulated sugar and confectioners' sugar in separate shallow dishes. Working with 2 tablespoons dough (or use #30 scoop) at a time, roll into balls. Drop dough balls directly into granulated sugar and roll to coat. Transfer dough balls to confectioners' sugar and roll to coat evenly. Evenly space dough balls on prepared sheets, 11 per sheet (if your cookie sheet is set up lengthwise, create a row of four cookies, followed by three cookies, followed by four, to get a total of 11.)

Bake cookies, 1 sheet at a time, until puffed and cracked and edges have begun to set but centers are still soft (cookies will look raw between cracks and seem underdone), about 12 minutes, rotating sheet halfway through baking. Let cool completely on sheet before serving.

Yield: ~22 cookies

Two years ago: English Muffin Bread
Three years ago: Rich Chocolate Brownies
Four years ago: Barefoot Carrot Salad
Five years ago: Cauliflower and Parmesan Cake
Six years ago: Krumkake
Seven years ago: Snickerdoodles

Print This Recipe