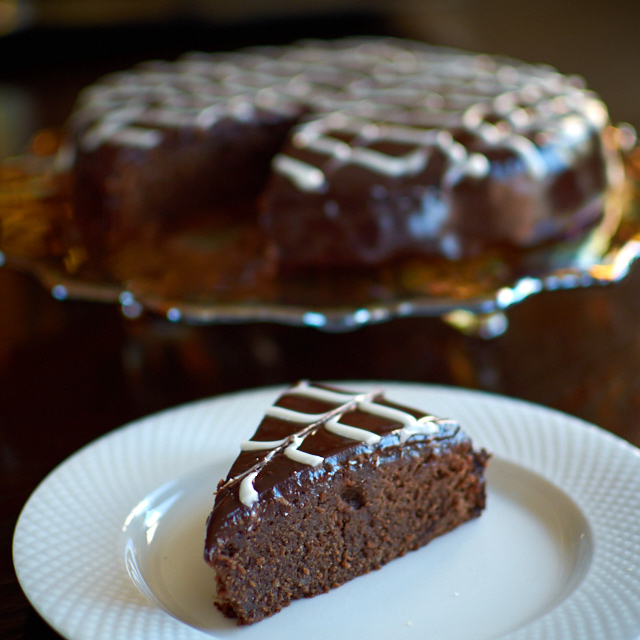 I made this cake for a dinner party we were supposed to have on Saturday night. I made the cake itself on Friday, wrapped it tightly in plastic wrap and stored it in the refrigerator. Unfortunately the dinner party didn't happen because one of my dear friends, and one of our guests that night, had an accident and nearly cut her finger off on Friday night. She ended up in the hospital for several days following microsurgery to reattach it. She's now at home recuperating.
I frosted the cake on Sunday, and we ate some of it on Sunday night and found it to be delicious, incredibly rich and very moist. I gave a couple of slices to my parents and they ate it today (Tuesday) and still found it to be incredibly moist. This is a great cake to bring to a celebration or to serve at a dinner party because the chevron frosting makes it look like it's from a bakery. This cake is very easy to make and stays fresh for a number of days.
The original recipe suggests an 8″ cake pan. I didn't have one, so I used a 9″ pan and it worked perfectly. The recipe suggests that you place the cake upside down on a rack. I flipped mine over so it wasn't upside down because my cake was ever so slightly domed and when it was flipped upside down, the edges didn't sit flush with the rack.
I poured the ganache all around the top of the cake, and as the recipe suggests, tilted the rack to get the ganache to spread smoothly over the cake. Once the cake was completely frosted and decorated, I used three spatulas (you'll need a second pers
on to help you with this) to move the cake onto a serving plate.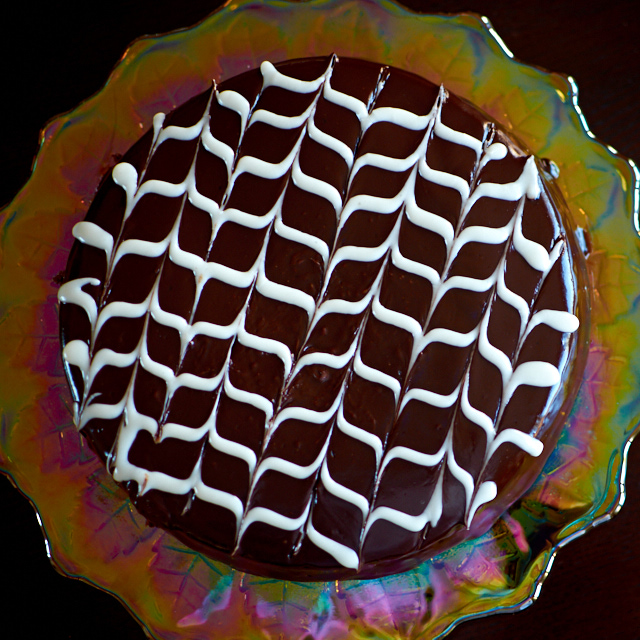 Chocolate Ganache Cake
Recipe from Barefoot Contessa

1/4 pound butter at room temperature
1 cup sugar
4 extra-large eggs at room temperature
1 3/4 cup Hershey's chocolate syrup
1 tablespoon pure vanilla extract
1 cup all-purpose flour

For the Ganache:
1/2 cup heavy cream
8 ounces good semisweet chocolate chips
3/4 teaspoon instant coffee granules

For the chevron stripes (optional):
1/2 cup confectioners sugar
1-2 Tablespoons milk
1/8 teaspoon vanilla extract

Preheat the oven to 325 degrees. Butter and flour a 8-inch or 9-inch round cake pan, then line the bottom with parchment paper.

Cream the butter and sugar in the bowl of an electric mixer fitted with the paddle attachment until light and fluffy. Add the eggs, one at a time. Mix in the chocolate syrup and vanilla. Add the flour and mix until just combined. Don't overbeat, or the cake will be tough.

Pour the batter into the pan and bake for 40 to 45 minutes, or until just set in the middle. Don't overbake! Let cool thoroughly in the pan.

For the ganache, cook the heavy cream, chocolate chips, and instant coffee in the top of a double boiler over simmering water until smooth and warm, stirring occasionally.

Place the cake upside down on a wire rack on top of a cookies sheet (to catch the drips) and pour the glaze evenly over the top, making sure to cover the entire cake and sides. You can tilt the rack/cookie sheet combo to smooth the glaze.

In a bowl, mix the confectioners sugar, 1 Tablespoon of milk and vanilla extract using a fork. Add more milk until you get to the consistency that will pipe onto the cake nicely without running. Place the glaze into a piping bag with a small round-tipped hole. Pipe stripes onto the cake, spaced by about an inch and a half. Once all of the stripes are on the cake, run a knife lightly through the stripes in alternating directions. Do not refrigerate the cake.

Yield: ~12 servings

One year ago: Oatmeal Scotchies
Two years ago: Surprise Cookies
Three years ago: Orange-Glazed Shrimp
Four years ago: Macaroni and Cheese with Black Beans and Chipotle
Five years ago: Oreo Rice Krispie Treats
Six years ago: Homemade Cheez-It Crackers
Seven years ago: Breakfast Tart with Pancetta and Green Onions
Eight years ago: Banana Oatmeal Chocolate Chip Cookies
Nine years ago: Oatmeal Cranberry Cookies
[print_link}