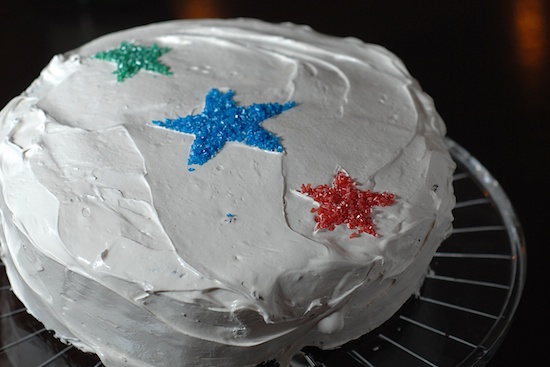 This cake isn't the most beautiful, but it's one of my all-time favorites.    It reminds me of devil dogs and Hostess cupcakes (the kind with the white swirl on top).   I've made this a couple of times now, with great reviews both times.  The chocolate cake is very moist (unlike devil dogs) and the marshmallow frosting is light, sweet and delicious.
I loved devil dogs as a child, but my real favorites were Funny Bones.   Remember those?   Chocolate cake filled with a light peanut butter filling, dipped in chocolate.  I'm pretty sure they're still sold today.    I'd be afraid to buy them though because I have such wonderful memories.   I'm sure they wouldn't taste as good as I remember.
I have used this chocolate cake recipe to make cupcakes.   Because the cake is so moist, I found that they cupcakes lacked a little structural integrity, but boy were the mini-cupcakes delicious!    They crumbled a bit in your hand, but the ratio of chocolate cake to frosting (I used chocolate frosting for the cupcakes) was perfect!   I couldn't have eaten a dozen in a sitting.
When I frosted the cake, it looked much too plain, so I decided to experiment with colored sugars that I poured into cookie cutters.   It wasn't perfect, but it added some festivity to the cake. If you have a birthday coming up and you need to make a cake – this is the recipe for you.  It really is THAT good.
Chocolate Cake Layers
Recipe from Smitten Kitchen
Butter for greasing pans
2 ounces fine-quality semisweet chocolate such as Callebaut
1  cup hot brewed coffee
2 cups sugar
1 2/3 cups all-purpose flour
1  cup unsweetened cocoa powder (not Dutch process)
1 1/3  teaspoons baking soda
1/2  teaspoon baking powder
3/4 teaspoon salt
2  large eggs
1/2 cup vegetable oil
1  cup well-shaken buttermilk
1/2  teaspoon vanilla

Preheat oven to 300°F. and grease the cake pans with butter. Line bottoms of 2 9-inch round cake pans with wax paper and grease paper with butter.

Finely chop chocolate and in a bowl combine with hot coffee. Let mixture stand, stirring occasionally, until chocolate is melted and mixture is smooth.

Into a large bowl sift together sugar, flour, cocoa powder, baking soda, baking powder, and salt. In another large bowl with an electric mixer beat eggs until thickened slightly and lemon colored (about 3 minutes with a standing mixer or 5 minutes with a hand-held mixer). Slowly add oil, buttermilk, vanilla, and melted chocolate mixture to eggs, beating until combined well. Add sugar mixture and beat on medium speed until just combined well. The batter will look fairly thin.

Divide batter between pans and bake in middle of oven until a tester inserted in center comes out clean, 55 minutes to 1 hour and 10 minutes.

Cool layers completely in pans on racks. Run a thin knife around edges of pans and invert layers onto racks. Carefully remove wax paper and cool layers completely. Cake layers may be made 1 day ahead and kept, wrapped well in plastic wrap, at room temperature.

Marshmallow, or Seven Minute Frosting

2 large egg whites
1/2 cup sugar
1/4 cup light corn syrup
2 tablespoons water
1 1/2 teaspoons pure vanilla extract

Combine frosting ingredients with a pinch of salt in a metal bowl set over a saucepan of simmering water and beat with a handheld electric mixer at high speed until frosting is thick and fluffy, 6 to 7 minutes. Remove bowl from heat and continue to beat until slightly cooled.  Use a spatula to test the consistency of the frosting at the bottom of the bowl.  You want to make sure it has all whipped to the same consistency. Use frosting the day it is made.

To assemble the cake: Place a dab of frosting on the cake serving plate and place one of the chocolate layers on top of the frosting.  The frosting will act as glue to keep the cake in place as you are frosting it.   With an offset spatula or a knife, cover the cake with frosting.   Spread the frosting so it completly covers the bottom layer of cake, and extends off the side a bit.   Place the next cake layer on top.  Frost the entire cake, starting with the top and working your way down the sides.

Yield:  12 servings

One year ago: Apple Cake
Three years ago: Fun Fall Cookies

Print This Recipe