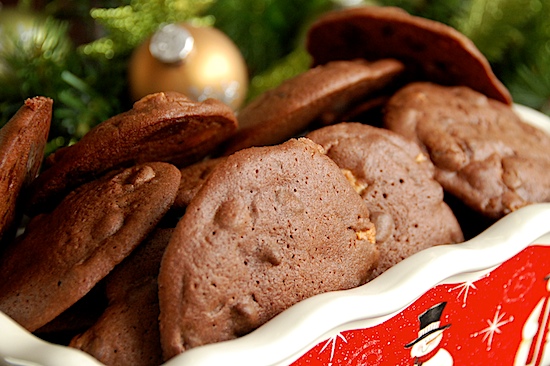 Happy New Year!    We went to an afternoon open house today and I volunteered to bring dessert.  Since there were LOTS of children at the party, I thought cookies would be the perfect thing to make.   My niece Christina gave me a cookbook called Baking: From My Home to Yours by Dorie Greenspan, and I've been dying to crack it open and try one of the recipes.  One recipe looks better than the next.    This one caught my eye.  I figured it was the perfect recipe for kids.   What child doesn't like Whoppers?
The recipe is a bit time consuming to make because you have to coarsely chop 2 cups of Whoppers.   I used a paring knife to do it.   My husband suggested throwing them in the food processor, but I was afraid I was going to pulverize them and since I was bringing them to a party, I wanted to be safe.   I'll try that next time.
The cookies received rave reviews. My boys would have been happy to polish off the whole tray if I had let them. I'll definitely make these again. They're a nice change from your standard chocolate chip cookie.
Chocolate Malted Whopper Drops
From Baking: From My Home to Yours by Dorie Greenspan, page 85

1 3/4 cup all-purpose flour
1 cup malted milk powder (I used Ovaltine Chocolate Malt Mix)
1/4 cup unsweetened cocoa powder
1 1/2 tsp baking powder
1 stick plus 3 tbsp butter, at room temperature
2/3 cup granulated sugar
2 large eggs
1 tsp vanilla extract
1/4 cup whole milk (I used low-fat milk and it worked fine)
2 cups Whoppers, coarsely chopped
6 oz. bittersweet chocolate, coarsely chopped (I used semi-sweet chocolate chips)

Preheat your oven to 350 F.   Position the racks to divide the oven into thirds and line two baking sheets with parchment or silicone mats.

Sift together the flour, malted milk powder, cocoa, baking powder, and salt.

Working with a stand mixer, preferably fitted with a paddle attachment, or with a hand mixer in a large bowl, beat the butter and sugar together on medium speed for about 3 minutes, until very smooth. Add the eggs one at a time, beating for about a minute after each addition. Beat in the vanilla; don't be concerned in the mixture looks curdled – it will even out when the dry ingredients are added. Reduce the mixer speed to low and add half the dry ingredients, mixing just until they disappear in the the batter. Mix in the milk, then the remaining dry ingredients, mixing only until they are incorporated. The batter will look more like fudge frosting than cookie dough – and that's fine. With the mixer on low, or by hand with a rubber spatula, mix in the malted milk balls and chopped chocolate.

Drop the dough by rounded tablespoonfuls on to the sheets, leaving about 2 inches of space between spoonfuls. Bake for 11 to 13 minutes, rotating the sheets from top to bottom and front to back after 6 minutes. When done, the cookies will be puffed and set slightly but soft to the touch. Let the cookies rest for 2 minutes before using a wide metal spatula to transfer them to the racks to cool to room temperature.

Repeat with the remaining dough, cooling the baking sheets between batches.

Yield:  ~30 cookies

Print This Recipe