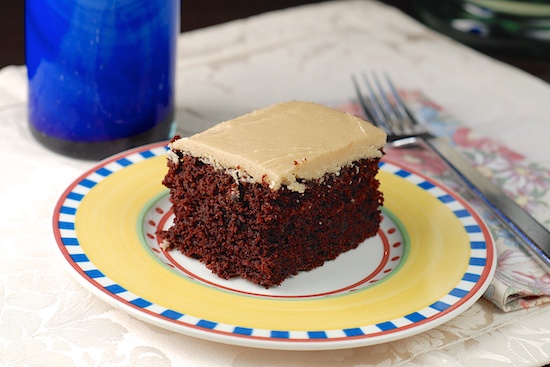 A mayonnaise cake?  OK, I know it sounds pretty repulsive, but give me a second here. Believe it or not, this cake is moist and delicious without even a hint of mayonnaise taste. The mayo in this recipe replaces the fat that typically goes into a cake, like butter or oil, and also the eggs. The mayo keeps this cake incredibly moist. The flavor of the cake reminded me of a Devil Dog (remember those?) I used Trader Joe's mayonnaise for this recipe because I had some in the refrigerator and my husband doesn't really like it. He thinks it's much saltier than the Hellmann's that we typically use.
This cake reminds me of something I might have had at my grandmother's house as a child. It's very simple yet incredibly delicious.
All of the boys, including my husband liked the cake (no surprise). My husband actually wished the cake had been a little bigger.
Chocolate Mayonnaise Cake with Brown Sugar Frosting
Recipe from Taste of Home

2 cups all-purpose flour
1 cup sugar
3 tablespoons baking cocoa
2 teaspoons baking soda
1 cup water
1 cup mayonnaise
1 teaspoon vanilla extract

Brown Sugar Frosting:
1/4 cup butter
1/2 cup packed brown sugar
2 tablespoons milk
1-3/4 cups sifted confectioners' sugar

In a large bowl, combine flour, sugar, cocoa and baking soda. Add water, mayonnaise and vanilla; beat at medium speed until thoroughly combined. You may still see some small pieces of mayo floating around.

Pour into a greased 9-in. square or an 11-in. x 7-in. baking pan. Bake at 350° for 25 – 30 minutes or until cake tests done. Cool completely.

For frosting, melt butter in a saucepan. Stir in brown sugar; cook and stir until bubbly. Remove from the heat and stir in milk. Gradually add confectioners' sugar; beat by hand until frosting is of spreading consistency. Immediately frost cake.

Yield: 9-12 servings

Two years ago: Cocoa-Banana Muffins
Three years ago: Honey Wheat Cookies
Four years ago: Sugar Cookies with Royal Icing
Five years ago: Turkey Meat Loaf

Print This Recipe