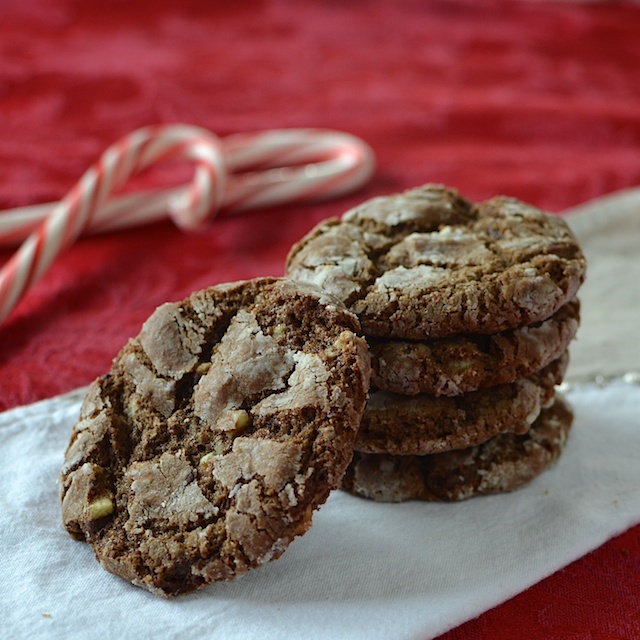 I'm a sucker for chocolate and mint, especially around the holidays. I can honestly say that I've never met a chocolate mint confection that I didn't like. These cookies are easy to make and their taste reminds me of Girl Scout Thin Mint Cookies which I absolutely love.
The trickiest part of making these cookies is finding a store that sells Andes Creme de Menthe baking chips. I found mine at Target; my local supermarket doesn't carry them. The one thing that I found a little odd about these cookies is that on some of them you can see the baking chips sticking out of the cookies. The chips are pale green in color. Not the best color for chips. I don't mind brightly colored things like M&Ms sticking out of my cookies, because it's clear what they are. These chips aren't colorful enough to define them. Not a huge deal though.
If you make these cookies, know that the dough needs to chill in the refrigerator for an hour before you can bake them. The dough is very soft when first made and needs to firm up before it gets rolled into balls and dredged in confectioner's sugar for baking.
These are great to serve around the holidays.
Chocolate Mint Crackle Cookies
Recipe from The Devil's Food Advocate who adapted it from The King Arthur Flour Cookie Companion


1 1/2 sticks (6 ounces) unsalted butter
1/2 cup brown sugar
1/2 cup granulated sugar
1 large egg
1 teaspoon vanilla paste or extract
1 teaspoon peppermint extract
1 1/2 cups unbleached all-purpose flour
1/4 cup unsweetened cocoa powder
1 teaspoon baking soda
1/4 teaspoon salt
1 cup Andes creme de menthe baking chips
About 1 cup confectioner's sugar, sifted onto a plate, for coating the cookies

Preheat the oven to 350°F and line your baking sheets with parchment paper. In a large mixing bowl, cream together the butter and sugars. Add the egg, beating well to incorporate. Mix in the vanilla and peppermint extract. In a medium bowl, whisk together the flour, cocoa powder, baking soda, and salt. Add the dry ingredients to the butter mixture and beat just to combine. Stir in the Andes chips. Chill the dough for an hour in the refrigerator. Scoop the dough by tablespoonfuls and roll quickly into balls. Roll in the confectioner's sugar and place on the prepared sheets, leaving space between the cookies (they will spread and flatten as they bake). Bake the cookies for 12 to 15 minutes, or until they're slightly darkened around the edges. Cool on the sheets for 5 minutes, then transfer to a rack to cool completely.

Yield: ~30 cookies

One year ago: Peppermint Cream Squares
Two years ago: Pork Tenderloin with Balsamic-Cranberry Sauce
Three years ago: Clementine Vanilla-Bean Quick Bread
Four years ago: Peanut Butter and Jam Jewels
Five years ago: Lemon Bars

Print This Recipe