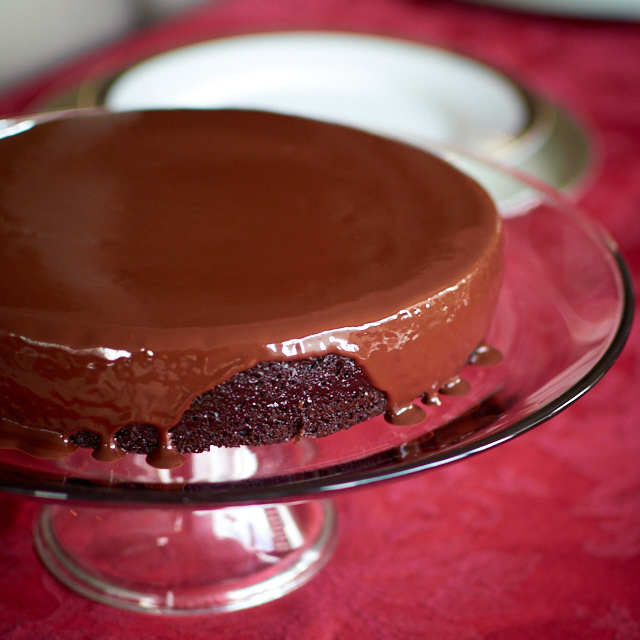 I served this cake on Christmas Eve as one of our desserts because one of our guests was vegan. If you make this recipe using dairy-free or vegan chocolate chips, it's a vegan delight because it contains no dairy, butter or eggs! The cake is incredibly moist and chocolaty and it was a big hit on Christmas Eve. I plan to make this often when we have company. You can make the cake a day or two in advance, wrap it tightly in plastic wrap when it's cool, and it will stay nice and moist until you glaze it. I love cakes that don't dry out immediately.
This recipe is very easy because no electric or stand mixer is needed. You mix everything in a bowl with a whisk and good, old-fashioned elbow grease. The batter will be thin when it's poured into the pan. Don't worry, that's normal.
Next time (and there will definitely be a next time), I plan to make two and turn them into a layer cake with either a vanilla or chocolate buttercream frosting.
N.B. My husband wanted me to let you know that you shouldn't be dissuaded by the name of this cake. Although it's an olive oil cake, it's not at all oily, nor does it taste like olives.
Chocolate Olive Oil Cake
Recipe from Smitten Kitchen

1 1/2 cups (195 grams) all-purpose flour
3/4 cup (60 grams) unsweetened cocoa powder, sifted if lumpy
1 1/2 teaspoons baking soda
1/2 teaspoon fine sea salt
3/4 cup (150 grams) granulated sugar
3/4 cup (145 grams) dark brown sugar
1/2 cup olive oil
1 1/2 cups water or coffee
1 tablespoon cider vinegar or white vinegar

Glaze:

3/4 cup (135 grams) semisweet chocolate chips
2 tablespoons (10 grams) cocoa powder
3 tablespoons (45 ml) olive oil
1 tablespoon light corn syrup (for shine)
A pinch or two of flaky sea salt

Preheat oven to 350 degrees F. Line the bottom of 9-inch round cake pan with a fitted round of parchment paper. Spray the bottom and sides of the pan with cooking spray.

In a large bowl, Whisk together the flour, cocoa powder, baking soda, salt and granulated sugar. Add brown sugar and olive oil. Whisk to combine. Add water and vinegar and whisk until smooth.

Pour the batter into the pan. Bake for 30 to 35 minutes, or until the top is springy and a tester inserted in the center comes out with just a few sticky crumbs on it. Cool the cake in the pan on a wire rack for 10 minutes, then run a knife between the cake and the edge of the pan to make sure the cake is loosened. Flip it onto a cooling rack to cool the rest of the way.

Make glaze: Combine chocolate, cocoa powder, olive oil, corn syrup, and salt in a medium bowl and microwave to melt, in 15 to 30 second increments. Stir after every 20 seconds or so until the chocolate is melted. Whisk the glaze until it's smooth and pour it onto the cake and use a spatula to spread the glaze so it completely covers the top of the cake. Don't worry if some of it drips down the sides.

This cake will keep nicely for several days at room temperature or in the refrigerator.

Yield: 8 – 12 servings, depending upon the size your sweet tooth

One year ago: Pumpkin Lentil Soup
Two years ago: Eleven Madison Park Granola
Three years ago: Parker's Split Pea Soup
Four years ago: Lemon Scones
Five years ago: Nutella Chocolate Cookies
Six years ago: Holiday Biscotti
Seven years ago: Individual Beef Wellingtons with Mushroom, Spinach and Blue Cheese Filling
Eight years ago: Quinoa Pilaf with Pine Nuts
Nine years ago: The Ultimate Quiche

Print This Recipe