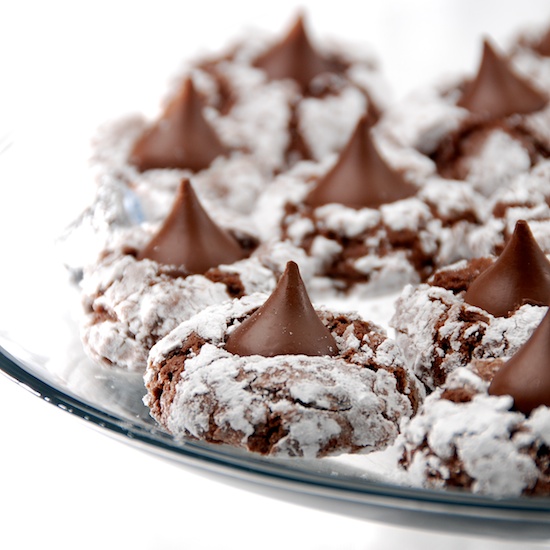 I had a half a bag of Hershey's Kisses left over from my Peanut Butter Blossoms that needed to be used so I tried them in this recipe. I LOVE chocolate and peppermint together, and I now prefer these to the Peanut Butter Blossoms. Although those are delicious, in my book, these beat them, hands down.
When I made these, I used a trick that my mother uses when she bakes with Hershey's Kisses. She partially bakes the cookies, then places the Hershey's Kiss on them, then puts them back in the oven for another couple of minutes. I tried this technique, and it worked perfectly. By pulling the cookies out of the oven a couple of minutes early, I found that the Kisses were much easier to place as the cookies were much more malleable than when I cooked them for the full time. The Kisses don't melt when you place them back into the oven, but they do settle nicely into the cookies. Don't bake them for too long though, or the Kisses will start to burn. Just under 2 minutes seemed to be the perfect amount of time for mine.
When you make these, you definitely want to sift your cocoa powder or it will potentially leave small pockets of unmixed cocoa powder in your cookie batter. The batter for these cookies definitely needs to sit in the refrigerator for at least 30 minutes, and up to an hour before you bake it because it is very moist when first mixed, so allow for this extra time when you want to make these.
I recommend wearing an apron when you make these as a dusting of powdered sugar can end up on your clothes, even if you're very careful. Here's a picture of me wearing a new apron that I made myself!  My friend Dana is an amazing seamstress and she taught me how to sew the other day. She's incredibly talented, and an excellent instructor with a lot of patience. I had a wonderful time making it, and I'm so proud that I did it myself! I was always intimated by sewing, but now I know that with the right tools and a great instructor, it's a lot of fun. If you're interested in sewing, check out Dana's blog. In one of her posts, you'll see me making the apron!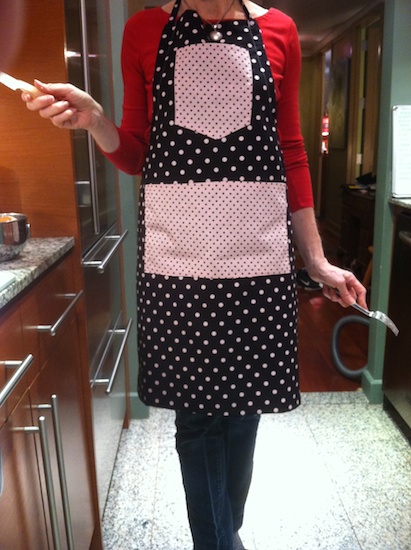 Chocolate Peppermint Blossoms
Recipe adapted slightly from Bake at 350

1 1/2 cups unbleached, all-purpose flour
3/4 cup Dutch-process cocoa powder
1 1/2 teaspoons baking powder
1/4 teaspoon kosher salt
1 stick (1/2 cup) salted butter, softened
1 1/4 cup sugar
3 eggs
1/2 teaspoon vanilla extract
1 teaspoon peppermint extract
1/2 cup powdered sugar for rolling
Hershey's Kisses

Line cookie sheets with Silpat or parchment paper. Preheat oven to 350 F.

Sift together the flour, cocoa, baking powder and salt. Set aside.

With an electric mixer, cream the butter and sugar until light and fluffy. Beat in the eggs and extracts, beating until combined and scraping down the sides and bottom of the bowl as needed.

Gradually, add the flour mixture, beating on low just until combined. The mixture will be very moist and sticky.
Place the bowl in the refrigerator and chill for 30 minutes to 1 hour.

Place the powdered sugar into a bowl. Using a teaspoon cookie scoop (or a spoon), create roughly rounded balls of dough and roll each one in the powdered sugar before placing on the cookie sheet. Place the dough 2″ apart. The cookies will spread some, but nothing like chocolate chip cookies.

Bake the cookies for 10 minutes, until puffed and cracked. Remove from the oven and immediately press a Hershey's Kiss on top of each hot cookie. Press firmly, so that it doesn't pop off. Put the cookies back into the oven for another 1 – 2 minutes. Watch to make sure the tops of the Kisses don't start to burn.

Let the cookies cool on the sheet for 1-2 minutes, then remove to a wire cooling rack.

Yield: just under 4 dozen cookies

One year ago: Spinach Salad with Chicken and Apples
Two years ago: Chicken Stew
Three years ago: Jacques' Chocolate Mudslide Cookies
Four years ago: Whole Wheat Cinnamon Oatmeal Chocolate Chip Cookies

Print This Recipe