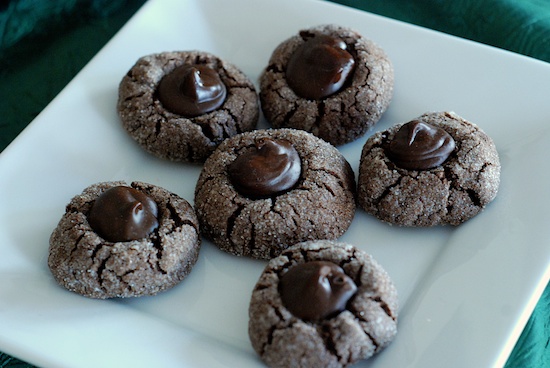 I have a cousin who lives in Italy and some good friends of hers were visiting NY last week. They brought us a package from her, so they stopped by to visit. It was a couple with two young children, so I decided to make some cookies for them. The visit was nice, but they didn't speak much English, so communicating was a bit of a challenge. We muddled through it though.
This recipe was very easy to make, and piping the chocolate out of a ziploc bag, made them a cinch to fill. I've made thumbprint cookies before and have always had trouble getting the jam in the center of the cookie to look right. Next time I'm going to squeeze it out of a ziploc bag. My guess is that it will look perfect every time, just like these cookies did.
These cookies are quite rich, and one cookie is enough to satisfy anyone's craving for sweets. Next time I might make them a tiny bit smaller because they're so rich. They're also sweet, but not incredibly so, which is nice.
Chocolate-Peppermint Thumbprints
Recipe from Everyday Food my Martha Stewart, December 2011 issue

2 cups all-purpose flour
2/3 cup unsweetened cocoa powder
1/4 teaspoon fine salt
1 1/4 cups (2 1/2 sticks) unsalted butter, room temperature
1 1/2 cups granulated sugar
1 large egg
1 tablespoon vanilla extract
5 ounces semisweet chocolate chips (3/4 cup)
1/2 teaspoon pure peppermint extract

Preheat oven to 350 degrees, with racks in upper and lower thirds. In a medium bowl, whisk together flour, cocoa powder, and salt. In a large bowl, using an electric mixer, beat 1 cup each butter and sugar on medium-high until light and fluffy, 3 minutes. Add egg and vanilla; beat to combine. With mixer on low, gradually add flour mixture and beat to combine.

Place 1/2 cup sugar in a small bowl. Roll dough into 1-inch balls, then roll in sugar to coat. Place balls, 1 inch apart, on two parchment-lined baking sheets. Bake 5 minutes. Remove sheets from oven; with the small end of a melon baller or the bottom of a small round measuring spoon make an indentation in center of each cookie.

Bake until cookies are just set but still look moist, 4 minutes (do not overbake). Let cool on sheets on wire racks.

In a microwave-safe bowl, microwave chocolate chips and 1/4 cup butter in 10-second increments until melted; stir in peppermint extract. Let cool until thick enough to pipe, 5 minutes. Transfer mixture to a large zip-top bag; snip 1/4-inch hole in one corner. Pipe chocolate into cookie indentations. Store in airtight containers, up to 1 week.

Yield: ~4 dozen cookies

One year ago: Shrimp Toast
Two years ago: Chocolate Malted Whopper Drops

Print This Recipe