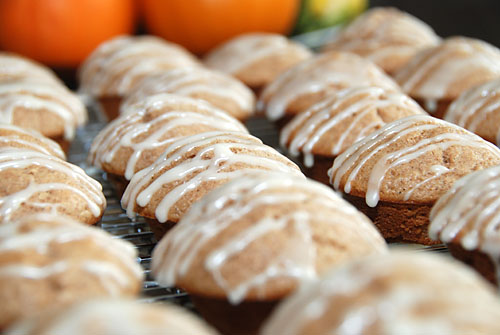 Truth be told, I think these muffins are pretty good, but my boys LOVE them!   They'll eat them anytime, for breakfast, snack or dessert.   They taste like cinnamon buns, but not as heavy or as sweet.  I may make them another batch tomorrow morning!
The original recipe called for all white flour and double the amount of oil.   When I'm baking, I've found that substituting half of the flour in almost any recipe with whole wheat flour works perfectly.  I've also found that in muffins especially, half of the oil called for in any recipe can be substituted with apple sauce.   Both of these suggestions don't ever seem to affect the taste of my baked goods, but they do make them a bit healthier to eat.
I'm still tweaking the glaze on these muffins.  The recipe that I provide below makes a decent glaze, but it's still a bit too sweet for me.   Next time I make these I'm going to throw some softened butter into the glaze to cut the sweetness a bit.
Cinnamon Muffins
Recipe adapted from RecipeZaar

3/4 cup all-purpouse flour
3/4 cup whole wheat flour
1/2 cup sugar 
1/2 teaspoon salt 
1 heaping teaspoon cinnamon (or to taste)
1 teaspoon vanilla
1/2 cup milk
1/4 cup packed brown sugar 
2 teaspoons baking powder 
1 egg, beaten
1/4 cup oil
1/4 cup apple sauce

Sift together flour, sugar, brown sugar, sugar, baking powder, salt, and cinnamon.  Combine egg, oil, apple sauce and milk, add to dry ingredients.  Stir just enough to moisten.  Fill 24 greased mini-muffin tins 2/3 full.   Bake at 400 degrees for 12 minutes or until muffins spring back to the touch.      

Glaze the muffins with your favorite sugar glaze.   I make mine by mixing 1 cup of confectioners sugar, 1 teaspoon vanilla, 2 tablespoons apple cider (you can use orange juice if you don't have cider on hand) and just shy of 1/4 teaspoon of lemon or lime juice.  This cuts the sweetness a bit without giving the glaze a citrusy taste.

Print This Recipe