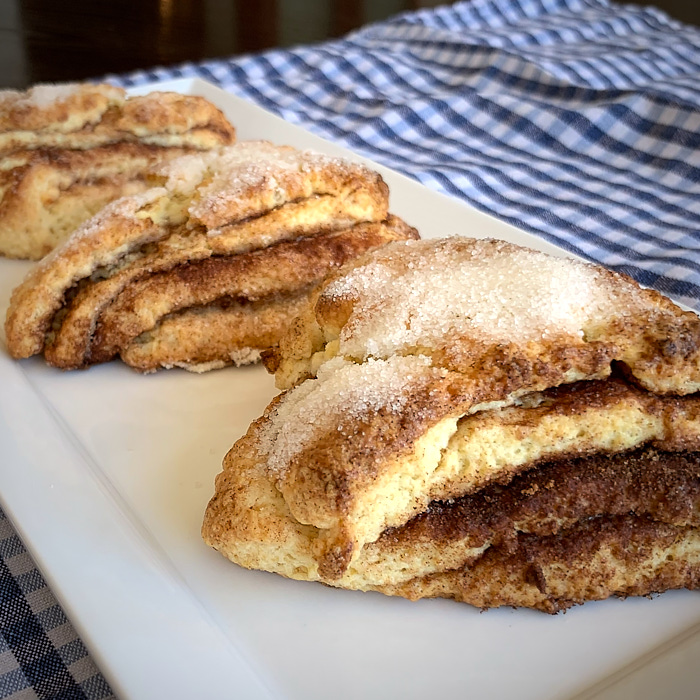 This is a one-bowl scone recipe that my boys love. They're not terribly sweet and your home will smell great as they cook. I find that cinnamon in the oven always does that.

You don't absolutely need parchment paper to make this recipe, but I find that it's quite helpful. This recipe involves rolling out the dough into a rectangle, spreading cinnamon and sugar on half of the dough, folding the dough over and doing the whole thing again. I find that if I roll the dough on parchment, when it's time to fold the dough over, I simply lift the parchment and the dough folds and releases well. Don't forget to dust the parchment with a little flour to ensure that the dough doesn't stick.

These are great for breakfast and are equally as good as an afternoon snack with a cup of tea. I find that these are best right out of the oven, or certainly on the day that they're made. If you happen to have one left over until the next day (you probably won't), put it in the microwave for 10-15 seconds and it'll be freshened right up.

Next time, I will shape the dough into a rectangle rather than a circle and make a dozen smaller scones rather than six large ones.

Cinnamon Sugar Scones
Recipe from Smitten Kitchen

1 3/4 cups (230 grams) all-purpose flour, plus more for dusting
6 tablespoons (75 grams) granulated sugar, divided
1 tablespoon baking powder
1/2 teaspoon fine sea salt
8 tablespoons (4 ounces or 115 grams) unsalted butter, cold, diced
1/4 cup (60 ml) half-and-half or 2 tablespoons each milk and heavy cream, cold
1 large egg
2 teaspoons ground cinnamon, divided


Heat your oven to 375°F (190°C). Line a baking sheet with parchment paper.

In a large bowl, combine the flour, 3 Tablespoons of the sugar (save 3 Tablespoons for later in the recipe), baking powder, and salt. Pinch the butter into the dry mixture with your fingers or cut it in with a pastry blender until it resembles coarse cornmeal. Make a well in the center and pour in the half-and-half, then the egg. Use a fork to gently combine the egg and cream in the center, then use it to combine everything into a rough mass. Dip your hands into the bowl and knead the mixture a few times into an even mass.

On a lightly floured piece of parchment, roll the dough to roughly a 10-by-6-inch rectangle. If you don't have parchment, you can roll the dough on a clean countertop. Sprinkle 1 tablespoon of the remaining sugar and 1 teaspoon of the cinnamon over half of the rectangle (it will seem like too much but really, it isn't), then fold it in half. Roll the dough out again into an 8-by-6-inch rectangle; sprinkle another of the remaining tablespoons of sugar and the last teaspoon of cinnamon over half of the dough, then fold in half again. Do not roll again, just pat the dough into roughly a 6-inch circle and cut with a sharp knife into 6 wedges. Evenly space the wedges on the pan, sprinkle with final tablespoon of sugar, and bake until slightly golden at the edges, 15 to 17 minutes.

Yield: 6 large scones


One year ago:  Plush Coconut Cake
Two years ago:  Gingerbread Biscotti
Three years ago:  Cake Batter Truffles
Four years ago:  Baked Sweet Potatoes with Coconut Curry Chickpeas
Five years ago:  Candied Orange Peel
Six years ago:  Sugared Pretzel Cookies
Seven years ago:  Quinoa Mac and Cheese
Eight years ago:  Granola
Nine years ago:  Boston Cream Pie
Ten years ago:  Pear Salad with Raspberry Cream
Eleven years ago:  Roasted Potato Leek Soup
Twelve years ago: Zucchini Gratin

Print This Recipe