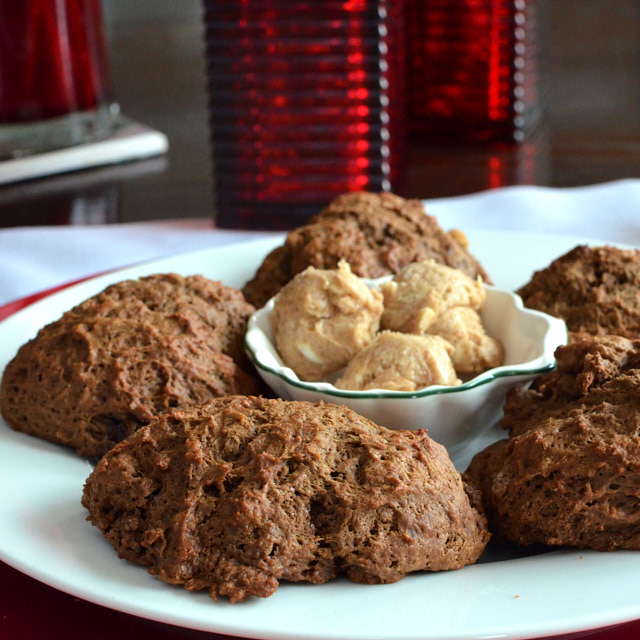 These are very quick and easy biscuits and if you're a baker, you probably have all of the ingredients in your kitchen cabinets. If you don't happen to have buttermilk, you can make your own. These are incredible right out of the oven. They're a perfect weekend breakfast treat.
You don't need an electric mixer for this recipe. It's all mixed by hand or with a pastry blender. If you want neatly shaped biscuits, you will need a biscuit cutter. We opted for free-form biscuits, so we just dropped the dough onto the cookie sheet.
One of my sons made these on a recent weekend morning. He is an excellent baker. It was cold outside when he made them and they were a warm, welcome treat with a cup of hot tea. They're not terribly sweet, which is nice too. If you have extra butter, it's great on toast!
Cocoa Buttermilk Breakfast Biscuits with Brown Sugar Cinnamon Butter
Recipe from How Sweet Eats

Biscuit ingredients:
2 1/2 cups all purpose flour
1/2 cup unsweetened cocoa powder (sifted if yours is very lumpy)
1/2 cup plus 2 tablespoons brown sugar
4 teaspoons baking powder
1/2 teaspoon salt
1 teaspoon baking soda
1 1/2 sticks (3/4 cup) cold butter, cut into pieces
1 1/4 cup buttermilk
2 teaspoons vanilla extract

Butter ingredients:
1/2 cup unsalted butter, softened
3 tablespoons brown sugar
1/2 teaspoon cinnamon
pinch of salt

Biscuit directions:

Preheat your oven to 425 degrees Fahrenheit.

In a large bowl, whisk together the flour, cocoa, sugar, salt, baking powder and soda. Using a fork, pastry blender or your clean hands, add butter pieces to the flour and mix until coarse crumbles are formed. Add buttermilk and vanilla, stirring with a spoon or a spatula until just combined Don't overmix the dough. If you need to, you can use your hands to bring the dough together.

Use a 1/4 cup measure or a similarly sized ice-cream scoop to drop batter onto a nonstick baking sheet, or if you'd like the biscuits to be a little neater looking, press the dough on a sheet of parchment paper or a cutting board and use a biscuit cutter to shape the dough into rounds. Bake for 12-15 minutes, or until biscuits are set and slightly golden on the edges. While the biscuits are cooking, make the butter.

Butter directions:

Add all of the ingredients to a bowl and stir until combined.


Yield: 12 – 15 biscuits

One year ago: Pumpkin Lentil Soup
Two years ago: Chocolate Crinkle Cookies
Three years ago: Mallobars
Four years ago: Sweet Potato-Sausage Soup
Five years ago: Marcus Samuelsson's Spiced Coconut Lentil Soup
Six years ago: Rosemary-Lemon Sandwich Cookies
Seven years ago: Weeknight Bolognese
Eight years ago: Chocolate Malted Whopper Drops
Nine years ago: Mahogany Beef Stew with Red Wine and Hoisin Sauce

Print This Recipe