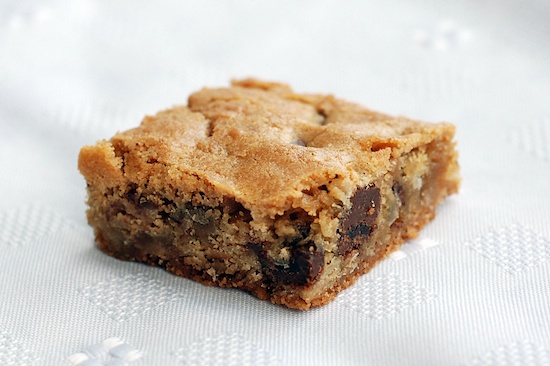 Made these for a PTA meeting recently and received rave reviews. I thought they were delicious. The toasted coconut was a really nice addition. These bars are definitely sweet, but if you only eat a small square, they're perfect.
When I toasted my coconut, I found that it browned unevenly, so I had to check it every 2-3 minutes and stir it to prevent it from burning. The coconut toasts quickly, so keep checking/stirring it.
My boys claim not to like coconut, but they had no problem inhaling these bars. I didn't get a single complaint about the taste or the texture. Maybe they do like coconut after all.

Coconut Blondies
Recipe from epicurious.com

1 1/2 sticks (3/4 cup) unsalted butter, softened
1 1/2 cups firmly packed light brown sugar
2 large eggs
2 teaspoons vanilla
1/2 teaspoon salt
1 1/2 teaspoons double-acting baking powder
1 1/2 cups all-purpose flour
1 cup semisweet chocolate chips
2 cups sweetened flaked coconut, toasted and cooled

Preheat oven to 350°F. Sprinkle the coconut in a thin layer on a rimmed baking sheet. Bake for 5 – 10 minutes. Check and stir the coconut every 2 – 3 minutes. Remove from oven when coconut is light brown in color.

In a bowl with an electric mixer cream together the butter and the brown sugar, beating the mixture until it is light and fluffy, add the eggs, 1 at a time, beating well after each addition, and beat in the vanilla. In a small bowl whisk together the salt, the baking powder, and the flour, add the flour mixture to the butter mixture, and beat the batter until it is just combined. Stir in the chocolate chips and the coconut, spread the batter evenly in a buttered and floured 13- by 9-inch baking pan, and bake it in the middle of a preheated 350°F. oven for 25 to 30 minutes, or until it begins to pull away from the sides of the pan and crumbs adhere to a tester. Let the mixture cool completely in the pan on a rack and cut it into squares.

Yield: ~32 Blondies

One year ago: Chocolate Yogurt Snack Cakes
Two years ago: Shrimp with Spiced Masala and Coconut Milk
Three years ago: Breakfast Cookies

Print This Recipe