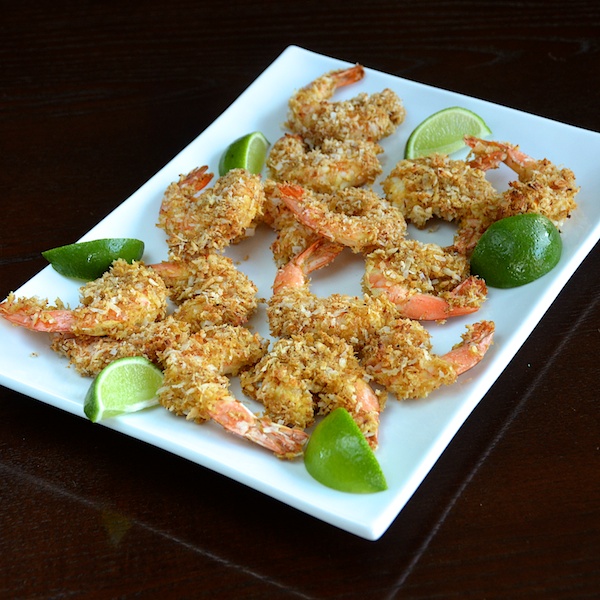 I made this dinner the other night in 30 minutes. No kidding. It was really quick. That said, I started with shrimp that had been deveined and shelled, so that was already taken care of. These days, I only buy shrimp that have already been cleaned and shelled. Costco sells them frozen in 2 pound bags. I always keep a bag on hand for a quick dinner.
These shrimp are coated in a Dijon mustard mixture and the mustard flavor comes across pretty strongly, so if you're not a mustard fan, this recipe is not for you. My husband and I really like mustard.
When you brown the panko for this recipe, make sure you stay with it, stirring, until the crumbs are lightly browned. When they start to toast, they go very quickly, so if you get distracted you can easily burn them.
When you coat the shrimp in the mustard/egg mixture, you can dip the shrimp individually, or you can do what I did and dump all of the shrimp into the bowl and toss them around with a big spoon until they're coated. I then dipped each shrimp into the coconut-breadcrumb mixture individually.
My shrimp were cooked in 12 minutes. I picked up the first one by the tail to try it and found that some of the breadcrumbs stuck to the rack. I then removed the rest with a metal spatula and had more luck with the breadcrumbs sticking to the shrimp.
This recipe is perfect for a weeknight meal because it comes together in no time, and it's absolutely delicious. We had some leftover and they were equally as good, cold from the refrigerator for lunch. This is another recipe that will become part of our weekly rotation. Yum!
Coconut-Crusted Shrimp
Recipe from Sarah Carey at MarthaStewart.com

3 tablespoons vegetable oil
1 1/2 cups panko (Japanese breadcrumbs)
1/2 cup sweetened shredded coconut, roughly chopped
1/2 cup Dijon mustard
1/2 teaspoon curry powder
2 large egg whites
1 pound large shrimp, peeled and deveined, tails left on (mine were 21-24 shrimp to the pound)
1 lime, cut into wedges

Preheat oven to 375 degrees. Set a wire rack in a rimmed baking sheet.

In a medium skillet, heat oil over medium heat. Add panko and toast, stirring, until golden, about 5 minutes. Transfer panko to a medium bowl; stir in coconut. In another medium bowl, whisk together Dijon, curry powder, and egg whites.

Dip shrimp in Dijon mixture, then coat with panko mixture, gently pressing to adhere. Place shrimp on rack and bake until opaque throughout, 10 to 12 minutes. Serve with lime wedges.

Yield: 3 servings

One year ago: Jacques Torres' Chocolate Chip Cookies
Two years ago: Marinated Swordfish
Three years ago: Irish Cream Caramel Cheesecake
Four years ago: Roasted Tomato Caprese Salad
Five years ago: Blueberry Coffee Cake Muffins

Print This Recipe