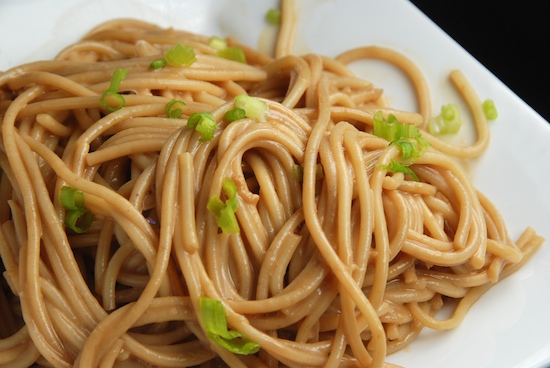 Sorry I haven't written in a little while. I'm just getting into my fall routine. We came back from Shelter Island and the boys started school the next day, which was an adjustment for all of us. I'm also PTA co-president, which is a bit of work. Once I've settled into a routine, I'll post more.
These noodles are delicious!   They're also incredibly easy to make and they're perfect as leftovers.   I've eaten them for the past several days for lunch.   They taste just like what you get in Chinese restaurants here in NY (at least they do to my unsophisticated palette!) They're called 'Cold Noodles with Sesame Sauce', but they're made with peanut butter (and a little bit of sesame oil). Don't forget to season these with salt. When I first made them, I left out the salt and they were clearly missing something. A little bit of salt did the trick! If you're one of those people that always order this at a Chinese restaurant – try making them at home. You won't be disappointed.
This recipe calls for minced ginger.   I buy a small jar or tube of minced ginger and keep it in my refrigerator.   It makes adding ginger to dishes amazingly easy.  It's typically found in the produce section of your supermarket, near the refrigerated salad dressings.
Cold Noodles with Sesame Sauce
Adapted from Recipe by Mark Bittman

Salt
12 ounces long pasta like linguine, or fresh Chinese egg noodles
2 tablespoons dark sesame oil
1/2 cup peanut butter
2 tablespoons sugar
3 tablespoons soy sauce, or to taste
1 teaspoon minced ginger
1 tablespoon rice or wine vinegar
Hot sesame oil or Tabasco sauce to taste
1/2 teaspoon freshly ground black pepper, or more
At least 1/2 cup minced scallions for garnish


Set a large pot of water to boil and salt it. Cook pasta until tender but not mushy. While pasta is cooking, whisk together sesame oil, peanut butter, sugar, soy sauce, ginger, vinegar, hot oil and pepper in a large bowl. Thin sauce with hot water, so that it is about the consistency of heavy cream; you will need 1/4 to 1/2 cup. When pasta is done, drain it and run pasta under cold water. Drain.

Toss noodles with sauce. Taste and adjust seasoning as necessary (I found that I had to add salt), then garnish with minced scallions and serve.

Yield: 4 servings

Print This Recipe