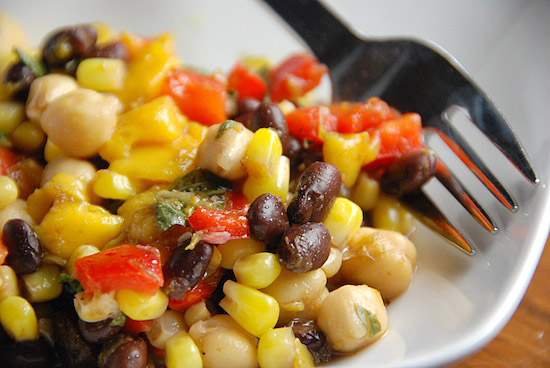 I love corn salads and I love bean salads, so for me this salad is heaven!   Like most great recipes that I find, I've made it twice within the last couple of days, and I've had three helpings this afternoon alone.   The vinaigrette makes the salad taste so fresh which I attribute to the lime juice, the zest and the mango.
The original recipe calls for 1 tsp. cumin.   The first time I made this it was a group effort.   We had some friends over for dinner, so we all made the salad together.   I was the quarterback and I totally forgot to tell my friend who was in charge of the dressing that cumin was needed.  Let me tell you, the salad was delicious without it.   If you're not a cumin fan, leave it out.
When I made the salad today, I added 1/4 tsp. cumin because truth be told, I'm not a huge cumin fan.   I like it in moderation and 1/4 tsp. was perfect.  I could taste it in the dressing, but it wasn't overwhelming.   If you really love cumin, I'd add a whole teaspoon.
I was lucky to have found this recipe when I did becasue several days ago I received a box of Harry and David's mangos that needed to be eaten.    Every year my sister-in-law gives me the BEST Christmas gift.   I get a 12-month subscription to Harry and David's Fruit of the Month Club.   I get a box of perfectly ripe, flawless fruit each month which the boys and I gobble up.   If you're ever seeking a gift for someone who has everything, and you don't mind spending a little money, send some Harry and David's fruit.  You won't be disappointed.
Since it's the beginning of June in NY, we don't have fresh corn yet, so I used frozen corn and it was delicious.   I'll try fresh corn this summer and let you know how it is.
Corn and Black Bean Salad with Basil-Lime Vinaigrette
Recipe from Giada DeLaurentis

Salad:

2 ears fresh corn or 1 cup frozen corn, thawed
1 (15-ounce) can black beans, drained and rinsed
1 (15-ounce) can garbanzo beans, drained and rinsed
1 red bell pepper, cored, seeded, and cut into 1/2-inch pieces
1 mango, peeled, seeded, and cut into 1/2-inch pieces

Vinagerette:

2 limes, zested and juiced
2 tablespoons balsamic vinegar
1/2 cup chopped fresh basil leaves
1/4 teaspoon ground cumin
1/3 cup extra-virgin olive oil
Kosher salt and freshly ground black pepper

For the salad: Preheat a gas or charcoal grill. Peel back the corn husks. Remove the silks and replace the husks. Soak the corn in cold water for 30 minutes. Drain and place on the grill for 10 to 15 minutes. Cool completely and remove the husks. Using a sharp knife, remove the corn kernels. In a medium bowl, mix together the grilled (or frozen) corn, black beans, garbanzo beans, bell pepper, and mango.

For the vinaigrette: In a small bowl, combine the lime zest, lime juice, balsamic vinegar, basil, and cumin. Slowly add the oil, whisking constantly until the mixture thickens. Season with salt and pepper, to taste.

Pour the vinaigrette over the salad and toss well. Refrigerate for 1 hour, and toss again, before serving.

Yield:  4 – 6 servings

Print This Recipe