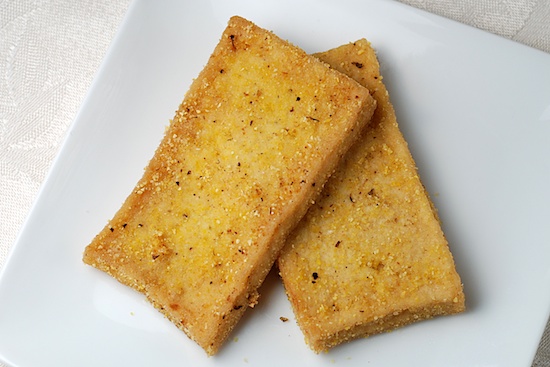 One of my triplets is a self-proclaimed vegetarian because he can't stand the thought of animals being hurt. He refuses to eat all meat and fish. I get it, I really do. He's incredibly compassionate, giving his money to the homeless on the street. For his birthday he asked that a donation be made to the North Shore Animal League.
I'm happy to support his vegetarian ways; the only problem is that he's one of our pickiest eaters. He likes nuts, pizza and pasta with butter, some fruit and not much else. Occasionally I can get him to eat a baby carrot. I'm in the process of making a deal with him. I'll support his vegetarian ways, but he must decide to expand the list of things that he eats, so he's eating well balanced meals.
This tofu was one of my attempts to expand his repertoire. We actually made all of the boys try it, and although no one loved it, they didn't think it was awful either. I'm going to make this again this week and keep having the boys try it to get them used to something different. Please wish me luck!
My husband and I didn't think this was bad at all, especially if you dip it in ketchup or barbecue sauce.
Cornmeal-Crusted Tofu
Recipe created by Lisa Oz as seen in The Oprah Magazine, September 2011

1 14-ounce package firm or extra-firm tofu, cut into ¼"-thick slices
¼ cup cornmeal
½ tsp. dried oregano
¼ tsp. kosher salt, divided
¼ tsp. ground black pepper
¼ tsp. granulated sugar
3 Tbsp. canola oil

Place tofu on a paper-towel-lined plate. Cover with more towels and press down, then cover with a heavy plate for 15 minutes.

In a shallow bowl, combine cornmeal, oregano, ¼ tsp. salt, black pepper, and granulated sugar. Coat tofu on both sides. In a large skillet, heat oil over high heat. Pan-fry tofu until golden brown, about 2 minutes a side. Serve immediately.


Yield: 4 servings
One year ago: Cinnamon Sugar Biscotti
Two years ago: No Knead Bread
Three years ago: Broccoli Salad

Print This Recipe