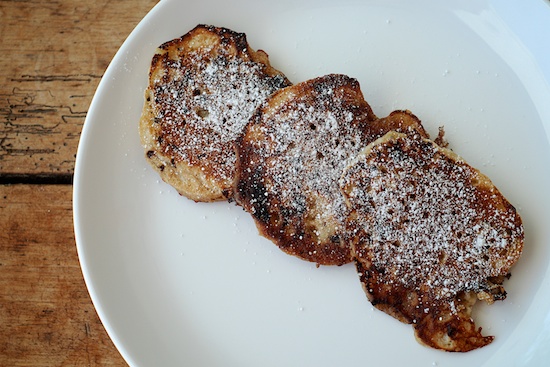 These pancakes were not pretty to look at, but my boys inhaled them and kept asking for more.   I made them several times this summer, mostly because when Aunt Sylvia was visiting, we always had a lot of cottage cheese in the refrigerator as she was trying to watch her weight.   My boys aren't big protein eaters, so I always look for ways to sneak a little more into the things that they like to eat (and they LOVE pancakes).
This pancake batter is much thicker than pancake batters that I'm used to and it's a bit lumpy because of the cottage cheese.    When I make this batter next, I'm going to use small curd cottage cheese because when the pancakes are cooked, you can see the white lumps of cottage cheese.   When I made these pancakes for the third time, one of my sons noticed the cottage cheese in the pancakes and suddenly wouldn't eat any more.   He loved the taste, but didn't like what they looked like.  Go figure!
I made these on Shelter Island where we have an electric stove and no griddle pan so I had to use a regular frying pan.  This made the pancakes challenging to make and as you can see from the photo, the results weren't beautiful, but they tasted good! I sprinkled them with a little powdered sugar to improve their appearance. Not sure it worked though.
My boys ate these plain, but they'd also be good served with butter and maple syrup.
Cottage Cheese Pancakes
Recipe adapted slightly from smittenkitchen.com

1 1/3 cups white whole wheat flour
1/3 cup sugar
2 teaspoons baking powder
1/2 teaspoon baking soda
1/2 teaspoon ground cinnamon or pinch of ground nutmeg (optional)
1/4 teaspoon salt

1 cup milk
1 cup full-fat or low-fat small curd cottage cheese
3 tablespoons butter, melted
2 large egg yolks
1 teaspoon vanilla

2 large egg whites

Lightly butter, oil, or spray your griddle or frying pan and turn the heat to medium.   If you don't plan to serve these pancakes as they come out of the pan, preheat your oven to 200 degrees F.

Whisk flour, sugar, baking powder, baking soda, cinnamon or nutmeg and salt together in a large bowl. In a separate bowl, whisk together the milk, cottage cheese, butter, egg yolks and vanilla.

Pour the wet ingredients over the dry ingredients and gently whisk them together, mixing just until combined. Stir in the walnuts and/or currants, if using them.

Using a stand mixer, whip the two egg whites using the whisk attachment until they are stiff but not dry.  Fold them into the batter.

The batter will be thick and bubbly.  Spoon ~1/3 cup batter onto the griddle or pan for each pancake, nudging the batter into rounds. These are thick and might take a little longer to cook than most other pancakes. Cook until the top of each pancake is starting to dry around the edges – you will get a few bubbles here and there – then flip  and cook until the bottom is lightly browned.

Serve with butter and maple syrup.

One year ago: Mexican Wedding Cookies

Print This Recipe