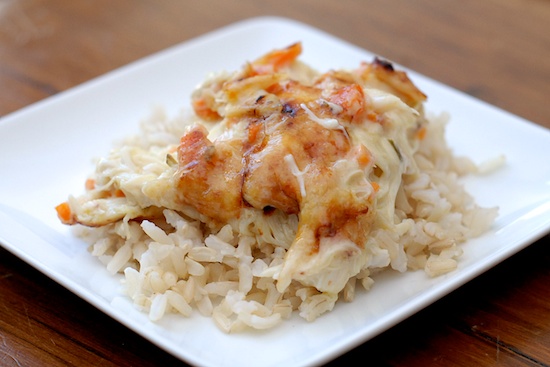 My goal during the month of January is to try to eat through some of the food in my cabinets, refrigerator and freezer.  I had a container of jumbo crab meat in the refrigerator that had been kicking around for a while. I checked the expiration date, and it didn't expire until the end of this year, so I used it. The meal took about 30 minutes to put together.  The part of the meal that took the longest was cooking the brown rice.    I just happened to have all of the ingredients (or enough for my liking) on hand, so I didn't have to go to the store.   In my book that's a plus.
I didn't have a red pepper, and I didn't feel like going to the store, so I doubled the carrots.    I also added a chopped shallot because I didn't have celery either.   The dinner was delicious!   The original recipe didn't call for corn starch, but I found the gratin to be a little liquidy, so I added 2 teaspoons of corn starch mixed with water to thicken it up.
One of the nice things about this recipe is that it serves 2.   I don't often find recipes designed to serve only two.   I doubled it because I like to have leftovers.  It was great the next day for lunch.  I heated it up and ate it on crackers.
Crab Meat Gratin
Recipe from epicurious.com

2 tablespoons minced carrot
2 tablespoons minced celery
2 tablespoons minced red bell pepper
1 tablespoon unsalted butter
1/2 cup chicken broth
1/4 cup dry vermouth or dry white wine
1/4 teaspoon dried tarragon, crumbled
1/2 cup heavy cream
1/2 pound fresh lump crab meat, picked over (about 1 1/2 cups)
2 teaspoons corn starch mixed with 2 teaspoons water
fresh lemon juice to taste (I used the juice from half a lemon)
1/4 cup freshly grated Parmesan cheese

Preheat broiler.

In a small heavy saucepan cook carrot, celery, and bell pepper in butter over moderate heat, stirring, 1 minute. Add broth, vermouth or wine, and tarragon and boil mixture until liquid is reduced to about 1 tablespoon. Add cream and the corn starch mixture and boil sauce until thickened, 1 to 2 minutes.  Stir in crab meat, lemon juice, and salt and pepper to taste and divide mixture between two 1-cup shallow baking dishes. Sprinkle Parmesan over crab mixture and set dishes in shallow baking pan. Broil gratin about 4 inches from heat 2 minutes, or until bubbling and golden, and serve over brown rice.

Yield:  2 servings

One year ago: Moroccan Spiced Chickpea Soup
Two years ago: Lima Bean Soup with Parmesan Bacon Crisp

Print This Recipe