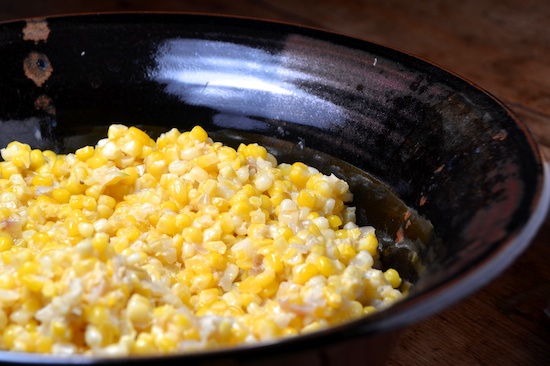 If you are a creamed corn fan, this is the recipe for you. It's quick and easy to make and it's hands-down the best creamed corn I have ever eaten.
When I moved into my first apartment after college, I hadn't developed my love of cooking yet, so I ate a lot of prepared food. A favorite of mine (in addition to raw cookie dough) was frozen creamed corn. I hated the canned version, but I really liked the frozen version. This recipe beats the frozen version by a mile.
I wouldn't use canned or frozen corn in this recipe. It won't be the same. Fresh corn on the cob is best.
Made this when our friends Anthony and Greg came to visit. I love to cook with friends. We pour a little wine, get the tunes going and have a lot of fun.
Creamed Corn with Shallots
Recipe from Fine Cooking, Issue 118, July 2012

5 ears fresh corn
1 Tbs. unsalted butter
1/4 cup minced shallots
1/2 cup heavy cream
Kosher salt
1/8 tsp. freshly grated nutmeg
Freshly ground black pepper

Slice the kernels from the corn to yield 3 cups (don't cut too deeply; you want only the tender tips of the kernels). Put the kernels in a medium bowl and reserve the cobs. Working with one cob at a time, stand it on its end in the bowl and scrape the back of the knife down the sides to release the corn "milk."

Melt the butter in a 10-inch nonstick skillet over medium-high heat. Add the shallots and cook, stirring, until softened, 1 minute. Add the corn, cream, and 1/2 tsp. salt and simmer gently, stirring often, until the cream has thickened, about 4 minutes. Stir in the nutmeg, season to taste with salt and pepper, and serve immediately.

Yield: 4 servings

Print This Recipe