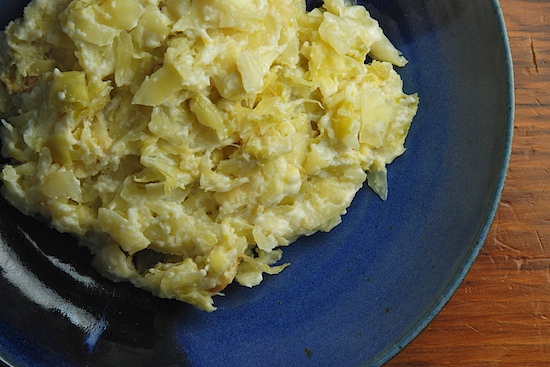 Our good friend Harriet came over for dinner tonight and I always try a new recipe when she visits.  We always love her visits because she is an amazing baker and she brings her homemade cookies. Yum!
I'm trying to introduce new green vegetables into our diets and I found this recipe in the January issue of Martha Stewart Living.   I typically only cook cabbage on St. Patrick's Day when I make a boiled dinner of corned beef, cabbage and potatoes.   I recently read an article about the health benefits of cabbage – it's loaded with vitamins A, B, C, E, and minerals – and decided that we should try to eat more of it.
This recipe turned out to be delicious.   I loved the punch of flavor from the lemon zest.   What a great way to eat cabbage.
Guess how many of the boys tried it.   You're right.   Zero.
Creamed Green Cabbage
From Martha Stewart Living, January 2010

Coarse salt and ground pepper
1 small head green cabbage, about 2 1/2 lbs., cored and shredded, 10 cups
3 tablespoons unsalted butter
1/4 cup flour
2 cups warm whole milk
1/4 cup plus 1 tablespoon finely grated Pecorino Romano cheese
1 tablespoon finely grated lemon zest (from 1 large lemon)

Preheat oven to 350.

Bring 1 inch salted water to a boil in Dutch oven or large pot. Add cabbage. Cover and steam, stirring occasionally, until tender, about 5 minutes. Drain and let cool slightly. Squeeze out excess water using a kitchen towel.

Melt butter in medium pan. over medium heat. Stir in flour and cook until bubbling but not browning, 1 to 2 minutes. Slowly whisk in milk. Cook, stirring until sauce is thick enough to coat the back of a wooden spoon, about 2 minutes. Remove from heat; add 1/4 cup cheese and the lemon zest.

Immediately fold cabbage into sauce. Season with salt and pepper. Spoon mixture into a shallow 6 cup casserole dish. Sprinkle with remaining tablespoon cheese. Bake until bubbling, 30 to 35 minutes. Let stand for 5 minutes before serving.

Yield:  6 servings

Print This Recipe