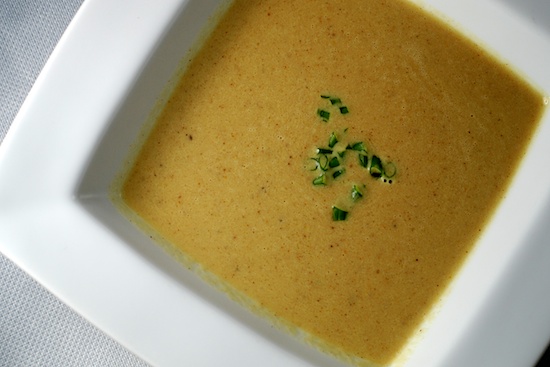 I know I've mentioned this before, but I love the farmers market that comes to our neighborhood on Thursdays and Saturdays. I especially love the fall vegetables that start to appear at this time of year – the beautifully colored and oddly shaped squash, the beets, the husk cherries and the other root vegetables. One vegetable that has always fascinated me is celeriac or celery root. It's a ball, slightly smaller than a softball, that has a very rough, dirty exterior. One look at it will tell you that you're not peeling it with a vegetable peeler. Never fear though, it's surprisingly easy to peel using a good santoku knife, and it's a very tasty vegetable. I find it to have a mild celery taste, and it absorbs other flavors very nicely.
To remove the skin, use a good knife and cut it off. If you cut like I do, you'll end up losing some of the flesh, but that's ok, you'll still have plenty of celeriac left to cook. I was inspired to make this soup by a Mark Bittman video that I saw. If you want to watch him cut the skin off the celeriac, click on the link that's under the name of the recipe below.
This is a perfect fall soup. Creamy, full of flavor and delicious.

Creamy Curried Celery Root Soup
Recipe from Mark Bittman/NY Times

4 tablespoons (1/2 stick) butter
1 small onion, chopped
1 tablespoon minced garlic
1 tablespoon curry powder
1 to 2 teaspoons ground cumin
Salt and black pepper
1 1/2 pounds celery root, peeled and cut into 1- to 2-inch chunks
6 cups chicken or vegetable stock or water
1/2 to 1 cup cream, half-and-half, or milk, or to taste
1/4 cup chopped fresh cilantro or parsley for garnish

Put the butter in a large, deep pot over medium-high heat. When it's melted, add the onion and garlic and cook until they begin to soften, 3 to 5 minutes. Add the curry powder and cumin and a sprinkle of salt and pepper and cook, stirring, for 1 minute.

Add the celery root and stir just to coat it in the spices, then add the stock and bring the mixture to a boil. Lower the heat so that the stock bubbles gently and cook, stirring occasionally, until the celery root is fully tender, 15 to 20 minutes more.

Cool the mixture slightly, pour into a blender, and purée carefully, or use an immersion blender to purée the soup in the pan. Return the soup to the pan and stir in the cream; reheat if necessary. Taste and adjust the seasoning, and serve garnished with the cilantro or parsley.

Yield: 4 servings
One year ago: Mini Nutella Cakes
Two years ago: French Toast
Three years ago: Quick Oat Bran and Banana Muffins

Print This Recipe