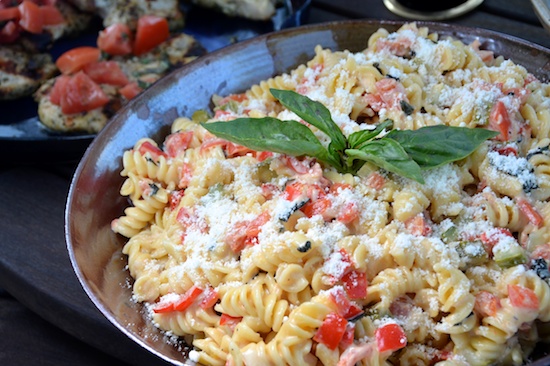 Ok, I made a most elementary mistake again last night. I didn't read the recipe in its entirety before I made it. I looked at the picture in the magazine, decided I was making a pasta salad, made sure I had all the ingredients, and off I went. It was only when I got to the end of the recipe and tasted it that I realized I had made a vegetarian pasta entree, not a side dish.
Once I tasted it, I wanted more. I have to say  this is one of the best pasta dishes I have ever made. The vegetable cream sauce is unbelievably good. It doesn't hurt that it's made with heavy cream and lots of cheese. With those ingredients it's hard to go wrong. I would have been happy eating this and nothing else for dinner last night. I didn't need the marinated chicken or the baked beans that I made. Those recipes will be posted shortly – they were great too.
I am continuing my seemingly futile attempts to get my boys to eat. I succeeded in getting two out of four to try the pasta last night. I asked them to rate the dish on a scale of one to ten. They both gave it a zero. I explained  that the scale was from 1 to 10. They refused to change their rating.
This is going to become a summer staple for us when zucchini, basil and tomatoes are in season.

Creamy Rotini with Zucchini, Tomato and Red Pepper
Recipe from Fine Cooking, Aug/Sept 2012 issue

Kosher salt
2 Tbs. olive oil
1 small white onion, cut into 1/2-inch dice
4 ripe Roma tomatoes, cored, seeded, and cut into 1/2-inch dice
1 medium zucchini, cut into 1/2-inch dice
1 large red bell pepper, cored, seeded, and cut into 1/2-inch dice
2 medium cloves garlic, finely chopped
Freshly ground black pepper
2 cups heavy cream
1-3/4 oz. Parmigiano-Reggiano finely grated with a rasp (3/4 cup); more for serving
1/2 cup thinly sliced fresh basil
1 Tbs. finely grated lemon zest (from 1 large lemon)
1 lb. rotini, or other short corkscrew pasta

Bring an 8-quart pot of well-salted water to a boil over high heat.

Heat the oil in a 12-inch skillet over medium heat. Add the onion and cook, stirring, until softened, about 2 minutes. Add the tomatoes, zucchini, bell pepper, garlic, 2 tsp. kosher salt, and 1/2 tsp. pepper and cook, stirring occasionally, until the vegetables are barely tender, about 7 minutes. Pour in the heavy cream and simmer until it thickens and coats the back of a spoon, about 7 minutes. Stir in the cheese, basil, and lemon zest.

Meanwhile, boil the pasta according to package directions until al dente.

Drain the pasta and return it to the pot. Pour in the sauce and toss until the pasta is evenly coated. Season to taste with salt and pepper, sprinkle with additional cheese, and serve.

Yield: 2 – 4 servings

One year ago: Pomegranate and Mint Sorbet
Two years ago: Strawberry Lemonade with Agave Nectar
Three years ago: Strawberry Lemonade
Four years ago: Fusilli and Chicken with Finger-Licking Peanut Sauce

Print This Recipe