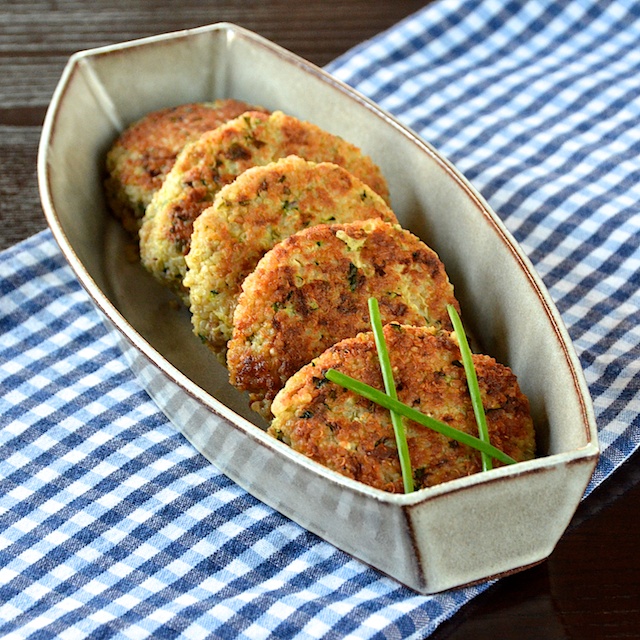 These are perfect for a meatless Monday dinner. You can serve these on buns just like you'd serve a hamburger, with all the classic condiments – lettuce, tomato, ketchup, mayonnaise, etc. You can also serve them as a side dish if you're not having a meatless meal. I ate mine without a bun and with a little ketchup. Barbecue sauce would be delicious also. These were great reheated for lunch the day after I made them.
When I made these, I was certain that the quinoa burgers were going to fall apart in the pan, but surprisingly they didn't. I made sure that I cooked them until a nice brown crust formed before I flipped them. I believe the crust helped keep them together.
I love that these sliders are filled with protein-rich quinoa, vitamin-rich zucchini and calcium-rich cheese. They're really perfect if you want a nice meatless burger on a hot summer day.

Crispy Quinoa Sliders
Recipe from Food & Wine

2/3 cup quinoa
Two 1-inch-thick slices of wheat bread, crusts removed and bread cubed
2 large eggs
1 cup coarsely grated zucchini
1/2 cup freshly grated Parmigiano-Reggiano cheese
1/4 cup chopped chives
3 small garlic cloves, minced
1/2 teaspoon kosher salt
1/4 teaspoon freshly ground pepper
1/4 cup extra-virgin olive oil
Mini burger buns, lettuce, tomatoes, onion and pickles, for serving

Rinse the quinoa until the water used is clear. Once rinsed, cook the quinoa in boiling water in a medium sauce pan according to package directions until just tender, ~10 minutes. Drain and spread on a baking sheet to cool.

In a food processor, pulse the bread until coarse crumbs form; you should have about 1 cup. In a bowl, whisk the eggs. Squeeze the liquid from the zucchini and add the zucchini to the eggs. Stir in the cheese, chives, garlic, salt and pepper. Mix in the quinoa and bread crumbs. Let stand for 10 minutes.

Using a 1/4-cup measure, scoop 12 mounds and form each one into a 1/2-inch-thick patty. In a large nonstick skillet, heat 1 tablespoon of the oil. Add 6 patties (or as many as will fit in your pan without overcrowding) and cook until golden on the bottom, 3 minutes. Add 1 tablespoon of the oil to the skillet, flip the patties and cook for 3 minutes, until crisp. Repeat with the remaining patties and oil. Serve with buns, lettuce, tomatoes, onion and pickles.

One year ago: Tzatziki Potato Salad
Two years ago: Vanilla Bean Sables

Print This Recipe