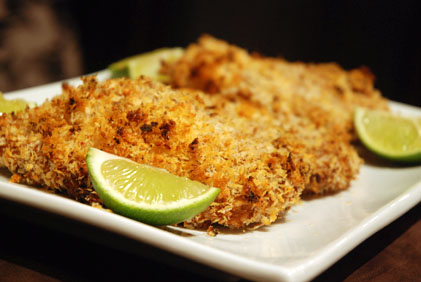 Last night, our good friend Harriet came over for dinner.   It's always so great to see her.  She's a great photographer and we always get great snapshots of the boys from her after a visit.   In addition to taking pictures of the boys, I asked her to take a couple of shots of dinner, both in progress and completed, so the two pictures below are courtesy of her – thanks Harriet!
These chicken breasts marinate in a yogurt marinade prior to cooking.  One of the nice things about this recipe is that you can let the chicken marinate for 24 hours, or not at all.  If you choose not to marinate it, you simply coat the chicken in the sauce as a way of making the breadcrumbs stick to it prior to baking.   This particular marinade/coating makes a tasty southwest chicken that pairs nicely with an ice cold beer.   Another nice thing about this recipe is that it's not fried – it's baked in the oven and the chicken still has a nice crispy crust.
The original recipe called for toasted breadcrumbs that you make from scratch.   Although delicious, I found it to be very labor intensive, so I substituted Panko one day and the result was equally as tasty.
Grab some guacamole and chips to start the dinner, serve the chicken with a rice dish and a corn salad, break out the cold beer and you're done!
Here are the raw, coated chicken breasts ready to go into the oven.
And here they are done.




 

Crispy Cheddar & Jalapeño Coated Chicken Breasts
Adapted from Fine Cooking Magazine

4 small boneless, skinless chicken breast halves (~6 or 7 ounces each)
1 cup plain yogurt, preferably whole-milk
1 Tbsp. chopped fresh thyme
1 Tbsp. light brown sugar
2 tsp. chili powder
1 tsp. garlic powder
1 tsp. kosher salt
1/2 tsp. freshly ground pepper
2 cups Panko (Japanese bread crumbs)
1/4 lb. tortilla chips, crushed into coarse crumbs (about 1.5 cups)
1/4 lb. sharp Cheddar, grated (about 1 lightly packed cup)
1/2 to 2/3 cup sliced jarred jalapeños, chopped and patted dry
1 lime, cut into wedges

Heat the oven to 450 degrees.  Put a flat rack on a large rimmed baking sheet lined with foil.

With a meat pounder or a heavy skillet, lightly pound the chicken between two sheets of plastic wrap to even out the thickness of the breasts.

In a large bowl, mix the yogurt with half of the thyme, the brown sugar, chili powder, garlic powder, salt and pepper.  Add the chicken and toss to coat well.  You can proceed directly to coating the chicken breasts with the crumbs or let them marinate the the refrigerator for up to 24 hours.

Put the breadcrumbs in a large shallow dish and toss with the tortilla chips, Cheddar, jalapeños and the remaining thyme.  Working with one piece at a time, transfer the chicken to the dish of crumbs, scoop some crumbs on top, and press well so the breadcrumbs adhere to both sides.   Transfer to the rack on the baking sheet.

Bake the chicken until it's firm to the touch and registers 165 degrees on an instant read thermometer, about 20 minutes.  Serve immediately with the lime wedges for squeezing over the chicken.