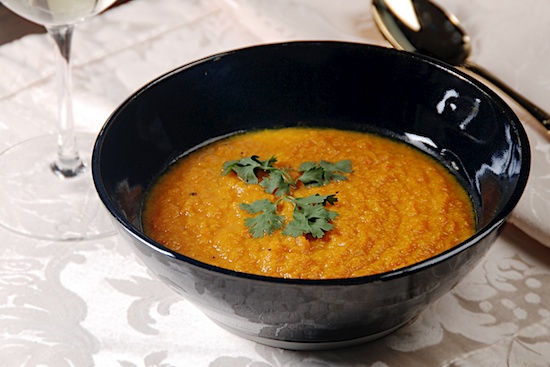 I made this great white bean soup on Shelter Island last weekend, but unfortunately we left the camera in Shelter Island, so I can't post the recipe yet. As soon as we get out there again, I'll post it because the soup was really delicious. Charles and I finished it up the other night. When he was eating it, Charles asked me about a carrot soup recipe that I used to make quite often when we were first married. I haven't made it in 10 years, for no other reason than there are so many good recipes out there to try! He mentioned that he'd like it again, and I remembered how much I loved the soup, so here it is. It's quite healthy, and it can have a little kick to it if you decide to use hot curry powder.
This isn't exactly a summer recipe, but I think it's worth posting anyway. Maybe some of you are in the southern hemisphere where you're heading into winter.
The recipe calls for 5 tablespoons of butter. You begin the recipe with two, then add the remaining three after the soup is cooked. I rarely add the extra three tablespoons of butter, but if you like butter in things, go ahead and add it. The soup is delicious both ways.

Curried Carrot Soup
From the New York Times Magazine, Oct. 21st, 198? (I have a copy of the recipe and can't read the last digit of the publication year.)

5 tablespoons unsalted butter
1 large leek, cleaned and chopped
2 medium-size potatoes, peeled and cubed
2 lbs. carrots, peeled and sliced
6 cups chicken stock
3 teaspoons curry powder
Salt to taste
Freshly ground pepper to taste
2 tablespoons minced fresh cilantro

Melt 2 tablespoons of butter in a large pot over medium-low heat and cook the leek for 10 minutes, until it is soft but not brown. Stir often.

Add the potatoes, carrots, and chicken stock. Bring to a boil, reduce to summer and season with curry powder. cover and simmer for 45 minutes.

Puree the vegetables in a blender or food processor until smooth. Add the remaining butter (if you choose to do so – I usually leave this remaining butter out), salt and pepper. Sprinkle with the cilantro and serve immediately.

Yield: 6 – 8 servings

Print This Recipe