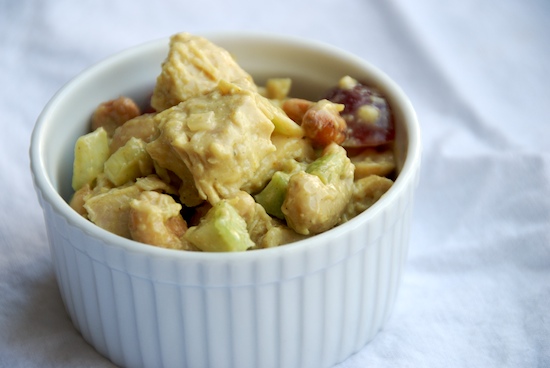 I made this salad for a picnic recently and boy is it good.   It's another Ina Garten recipe.   Have I mentioned that she's one of my favorites?   Other than being a little heavy-handed with the salt, her recipes are very straightforward and delicious.
The original recipe calls for raisins, but I can't stand raisins, especially when they're mixed or baked into food (and I wonder why my kids are picky eaters…), so I substituted grapes.   They give the salad a nice sweetness that's not too overpowering. When Ina made this recipe on one of her shows, she served it as a wrap sandwich.   I just served it as is.   The cashews add a nice crunch.   I added them right before serving the salad and they were perfect.   When I ate the leftovers the next day the cashews were still nice – I thought they might get a bit soggy overnight, but they didn't. I had some extra dressing when I made the salad.  If you like the taste of it by itself, save it for salad dressing or to pour over grilled chicken.  Alternatively, you can add more stuff to the salad.   Next time I might add a chopped apple for some additional crunch.
If you're looking for a new summer chicken salad, definitely give this one a try, the only caveat being that your house may smell heavily of curry for a couple of hours after you make the salad.
Curried Chicken Salad
Adapted from Ina Garten

3 split (1 1/2 whole) chicken breasts, bone in, skin on or 6 boneless chicken breast cutlets
Olive oil
Kosher salt
Freshly ground black pepper
1 1/2 cups good mayonnaise
1/3 cup dry white wine
1/4 cup Major Gray's chutney
3 tablespoons curry powder
1 cup medium-diced celery (~2 large stalks)
1/4 cup chopped scallions, white and green parts (2 scallions)
1/4 cup grapes (sliced in half)
1 cup whole roasted, salted cashews, chopped

Preheat the oven to 350 degrees F. Place the chicken breasts on a sheet pan and rub the skin with olive oil. Sprinkle liberally with salt and pepper. Roast for 35 to 40 minutes, until the chicken is just cooked.  If you are using boneless breasts, salt and pepper them, and put them on a cookie sheet and bake for ~20 minutes, or until they are cooked through.

Set aside until cool enough to handle. Remove the meat from the bones, discard the skin, and shred the chicken in pieces.   If you are using boneless breasts, salt and pepper them, then put them on a baking sheet in the over for ~20 minutes. For the dressing, combine the mayonnaise, wine, chutney, curry powder, and 3/4  teaspoons salt in the bowl of a food processor fitted with the steel blade. Process until smooth. Combine the chicken with enough dressing to moisten well. Add the celery, scallions, and grapes, and mix well. Refrigerate for a few hours to allow the flavors to blend. Add the cashews to the chicken just before serving.

Print This Recipe