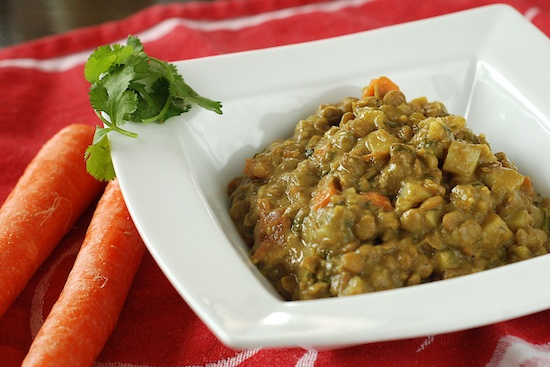 Despite what the food looks like (I actually think it looks a little like dog food – is that terrible to say?) I found it to be incredibly delicious and I was sad when I finished the last bowl.   I could have eaten this for lunch for a week without getting sick of it.   I love the combination of curry and coconut.
This is based on a recipe that I found in a book by Mark Bittman called Food Matters. He makes it as a fairly liquidy soup, but I prefer things like this as stews, which use less liquid. This can be served as a vegetarian main course. It's nice when served with some crusty bread. It can also be served as a side dish. Either way it's really delicious.
My friend Perine is from Sri Lanka and when she goes home, she brings back Sri Lankan spices. She gave me a package of curry powder, which I used in this dish. Thank you Perine! The curry is so incredibly fragrant and tastes so good in this recipe. Any curry powder will do. I have some mild curry powder and some hot curry. I prefer the mild curry in this dish.
You have a lot of flexibility with this dish. If you prefer soup to stew, add more vegetable stock. The original recipe called for a quart! If you want to reduce the fat content a bit, use light coconut milk instead of regular. You can substitute lots of other vegetables for the carrots, like zucchini, green beans, spinach, etc. If you don't have fresh tomatoes, use canned. Substitute sweet potatoes for the regular potatoes. The recipe below is how I like to make it, but tweak the recipe to suit the ingredients that you have on hand. Soups and stews are very forgiving that way.

Curried Lentil Stew with Potatoes
Adapted from recipe by Mark Bittman

2 Tablespoons canola oil
1 medium onion, roughly chopped
1 Tablespoon minced garlic
1 Tablespoon minced, peeled fresh ginger
Salt & freshly ground pepper
3 Tablespoons curry powder
2 medium tomatoes, peeled, chopped
1 cup dried lentils (washed and picked over)
3 cups vegetable stock
1 can coconut milk
2 medium potatoes, peeled & cut into chunks
1 cup chopped carrots
1/2 cup chopped fresh cilantro

Heat oil in deep skillet or medium saucepan over medium high heat. When hot, add onion and cook until soft and translucent, about 3 minutes. Add garlic and ginger and cook for another minute. Sprinkle with salt and pepper and stir in curry powder – stir frequently until darkened and fragrant, about 1 or 2 minutes

Stir in tomatoes and lentils. Add vegetable stock and coconut milk. Bring to a boil, partially cover and turn the heat down to simmer. Stir occasionally until lentils are just becoming tender; stir in potatoes and more stock if needed. Cook another 10 minutes, then add the remaining vegetables. Cover and cook another 5 – 10 minutes, until all of the vegetables are tender.

Stir in cilantro, adjust seasoning and serve.

Yield: 4 servings

One year ago: Pink Grapefruit Sorbet
Two years ago: Tortillitas with Shrimp
Three years ago: Croissant Bread Pudding
Four years ago: Basil Parmesan Chicken Salad


Print This Recipe