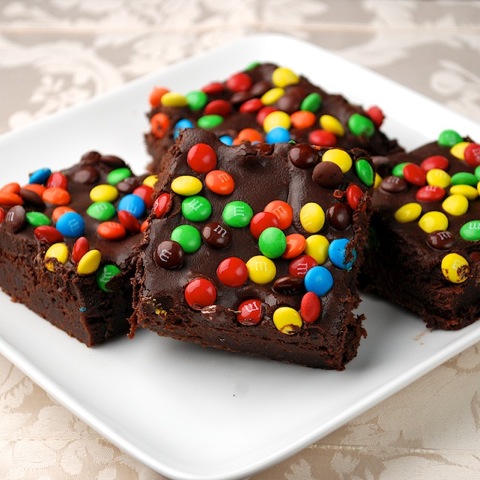 OK, I'm trying very hard to get my blog connected to Facebook, so my posts appear on my new Stylish Cuisine page automatically. I have been playing with this for a couple of days now with no luck, but I think I finally figured it out. The true test will be whether or not this post appears on my page.
So, on to these brownies. I saw a picture of them on another blog called Averie Cooks, and I thought they looked incredible. I'm a sucker for brownies with frosting and I'm also a sucker for mini M&M's. Averie called them Little Debbie Cosmic Brownies. I've never had a Little Debbie Cosmic Brownie before. I've actually never tried a Little Debbie product in my life. I don't remember them from growing up. Perhaps they weren't so popular in NY?  Anyway, these brownies were good, and my boys loved them, but I thought they were way too rich. They are a deep, dark, dense chocolate brownie, which a rich chocolate ganache frosting. A quarter of a brownie was enough for me, and I'm a chocolate fan. If you're a dark chocolate fan and you like rich brownies, these might be for you.
I stored the brownies in the fridge, and I found that after a day in the refrigerator, the color started to fade on the M&M's. They looked their best when they were first made.
If you're a Facebook user and would like to see my posts appear in your News Feed, please like my Stylish Cuisine Facebook page.  Thanks!

Dark Chocolate Brownies with Chocolate Ganache Frosting
Recipe adapted from Avery Cooks

Brownies:
3/4 cup unsalted butter, melted
2 large eggs
1 cup granulated sugar
2/3 cup light brown sugar, packed
2 tablespoons coffee (not coffee granules, actual coffee)
2 teaspoons vanilla extract
3/4 cup unsweetened natural cocoa powder
1 teaspoon instant espresso granules or instant coffee granules
3/4 cup all-purpose flour

Ganache:
1 1/2 cups semi-sweet chocolate chips
1/2 cup half-and-half
1 cup M&M's minis

Preheat oven to 350F. Line a 9-by-9-inch baking pan with aluminum foil, leaving some foil hanging over the edges for easy removal of the brownies. Spray the foil with cooking spray.

In a large saucepan, melt the butter. Let it cool for a few minutes. Add the eggs, sugars, liquid coffee, and vanilla. Whisk to combine.

Sift in the cocoa powder (this will prevent any lumps) and add instant espresso/coffee granules. Mix by hand until smooth. Stir in the flour until the mixture is smooth.

Pour the batter into the pan and if the batter isn't smooth, use a spatula to smooth it.

Bake for approximately 25 minutes, or until a toothpick inserted into the center comes out clean. Let the brownies cool in the pan.

To make the ganache, put the chocolate chips in a glass bowl and microwave them for a minute at high power. Remove them from the microwave. They won't be totally melted. Don't worry.

Next, heat the half and half in a separate glass bowl until it looks like it's just starting to boil. Pour the half and half over the chocolate chips. You can let it sit for a couple of minutes, or you can start stirring immediately, like I did. Stir until the ganache is silky smooth. If it's still a little lumpy, you can microwave the mixture in 10-second bursts, stirring in between, until the ganache is smooth. Spread it over the cooled brownies and spread the mini M&M's on top. Put the brownies in the fridge until the ganache has set before cutting.

Store brownies in the fridge.

Yield: 16 brownies

One year ago: Quinoa with Cilantro, Mint and Lime
Two years ago: Hot, Buttered Cauliflower Puree
Three years ago: Brownie Buttons
Four years ago: Chocolate Buttercream Frosting

Print This Recipe