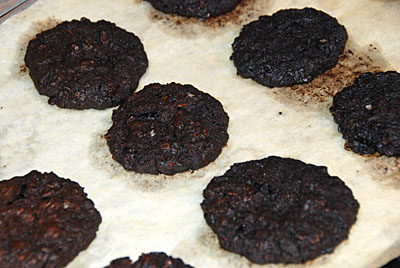 I haven't posted in a while because a dear friend was in the hospital for over a month and I was spending a fair amount of time in the ICU waiting room.   He's much better now, so I'm back to cooking and writing.
I took my son to piano lessons recently and left one batch of cookies in the oven and another ready to go in.   When I walked out the door I asked my husband to take them out of the oven when the timer went off, which it was going to do five minutes after I left.  He agreed and off I went.
I was sitting outside the music studio waiting for Charlie to finish his lesson when my cell phone rang.  Guess who?   It was my husband telling me that he was listening to his music and didn't hear the timer go off, thus the picture above.   When I got home, I smelled the smoke when I got off the elevator.   When I got to the apartment, I found the front door propped open and all of the windows open as well.  I recall still seeing smoke in the air!
Despite the misleading photo above, these cookies are really delicious.  They're called Crispy Salted Oatmeal White Chocolate Cookies.   I found the recipe on a food blog that I love called Smitten Kitchen. These cookies really are crispy, and they're a little bit salty, and they're incredibly delicious.   If you don't burn them as my husband did, they may well become one of your favorite cookies.  They certainly are one of mine.  
The picture below is what the batter looks like on the parchment-covered cookie sheet once I pressed them down with my fingers.   I'm adding a few flakes of sea salt to each one.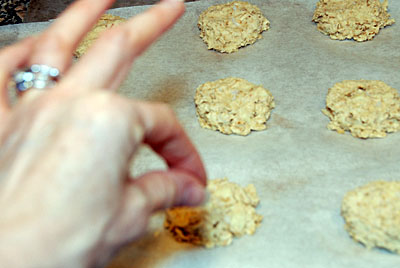 Here are a couple of pictures of the final product.  You really have to try these!  In the end only one tray of my cookies burned.  The rest were delicious as expected.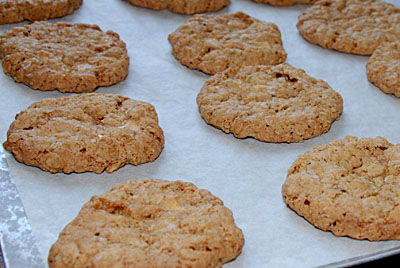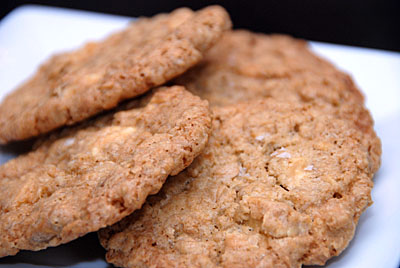 Cripsy Salted Oatmeal White Chocolate Cookies
From Smitten Kitchen
Adapted from Cook's Illustrated

1 cup all-purpose flour
3/4 teaspoon baking powder
1/2 teaspoon baking soda
1/4 teaspoon table salt
14 tablespoons (1 3/4 sticks) unsalted butter, slightly softened
1 cup sugar
1/4 cup packed light brown sugar
1 large egg
1 teaspoon vanilla extract
2 1/2 cups old-fashioned rolled oats
6 ounces good-quality white chocolate bar, chopped (not "white chocolate" chips; they're almost always artificial. I am adamant about this.)
1/2 teapoon flaky sea salt (like Maldon or fleur de sel) (for sprinkling on top)

Preheat oven to 350 degrees. Line baking sheet with parchment paper or Silpat. Whisk flour, baking powder, baking soda, and table salt in a medium bowl.

Beat butter and sugars until light and fluffy. Scrape down bowl with rubber spatula, then add egg and vanilla and beat until incorporated. Scrape down bowl again. Add flour mixture gradually and mix until just incorporated and smooth. Gradually add oats and white chocolate and mix until well incorporated.

Divide dough into 24 equal portions (or just use an ice cream scoop), each about 2 tablespoons. Roll between palms into balls, then place on lined baking sheets about 2 1/2 inches apart. Using fingertips, gently press down each ball to about ¾-inch thickness.

Sprinkle a flake or two of sea salt on each cookie

Bake until cookies are deep golden brown, about 13 to 16 minutes, rotating baking sheet halfway through. Transfer baking sheet to wire rack to cool.