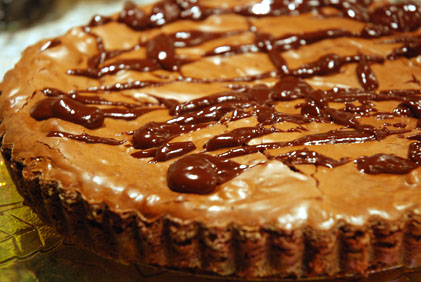 I love Ina Garten's recipes. I especially love her recipe for Outrageous Brownies, but I only make them when I'm feeding a huge crowd. I recently found this equally decadent brownie recipe whose size is much more manageable. You actually make it in a tart pan.
We had a lovely Italian student stay with us for two weeks this summer and I wanted to make a dessert that was decidedly American, so I made this brownie tart and served it with vanilla ice cream. You can get much more American than brownies and ice cream.
This dessert is incredibly rich and a very small piece will suffice for a nice dessert. The recipe calls for walnuts, but I'm not a huge walnut fan in my brownies, so I typically leave them out. Try this at your next dinner party. It's sure to be a hit.
Brownie Tart
From Barefoot in Paris by Ina Garten

6 tablespoons (3/4 stick) unsalted butter
3 1/4 cups (20 ounces) semisweet chocolate chips
3 extra large eggs
1 cup sugar
1 tablespoon instant coffee granules
1/2 teaspoon pure vanilla extract
1/2 cup all-purpose flour
1/4 teaspoon baking powder
1/4 teaspoon kosher salt
1 cup (4 ounces) chopped walnuts (optional)
2 to 3 tablespoons heavy cream

Grease and flour a 9-inch tart pan with removable sides. Preheat the oven to 350 degrees F.

Melt the butter in a bowl set over simmering water. Add 2 cups of the chocolate chips, remove from the heat, and stir until the chocolate melts. Set aside to cool completely.

In the bowl of an electric mixer fitted with the paddle attachment, beat the eggs, sugar, coffee and vanilla on medium-high speed until light and fluffy, about three minutes. Stir in the cooled chocolate. In a medium bowl, combine the flour, baking powder, salt, 1 cup of the chocolate chips, and the walnuts (if using.) Fold the flour mixture into the batter until just combined. Pour into the pan and bake for 35 to 40 minutes, until the center is puffed (the top may crack). The inside will still be very soft. cool to room temperature before removing the sided of the tart pan.

Melt the remaining 1/4 cup of chocolate chips with the heavy cream and drizzle on the tart.