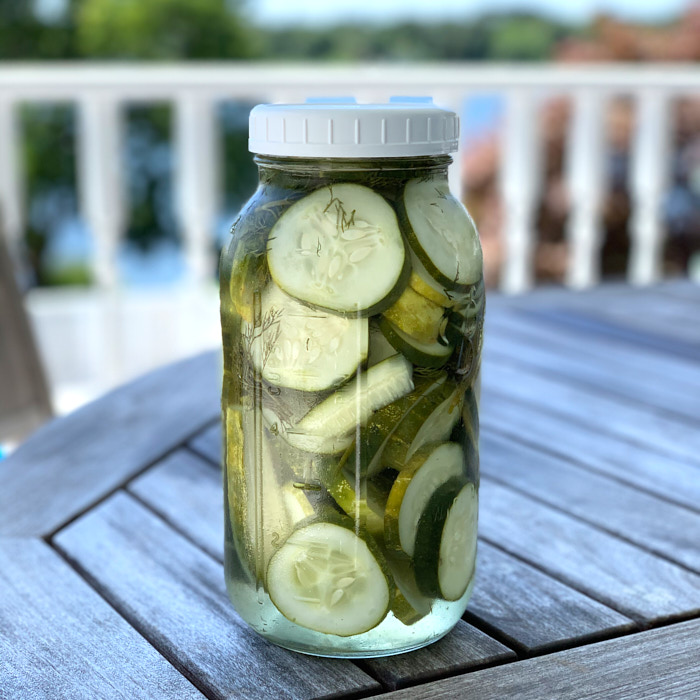 I have been doing a lot of cooking during this summer of pandemic, but I have been primarily relying on my favorite, tried-and-true recipes. That said, I have made a few new recipes this summer and these dill pickles are one of them.

Dill pickles are surprisingly easy to make. If you see pickling cucumbers at a farmer's market, grab some. Grab a bunch of dill and a head of garlic while you're at it, and you're in business.

My niece is a dill pickle aficionado, and she gave these a double thumbs-up. We ate them straight out of the jar as well as on our sandwiches. I promise you that these are infinitely better than any jar of pickles that you'll find on your supermarket shelves. Definitely give them a try.
Dill Pickles
Recipe adapted from Food52

2 cups water
2 cups white vinegar
1/3 cup kosher salt
5 pickling cucumbers
1 bunch dill
1 Tablespoon sugar
1 head garlic, divided into cloves

Add water, vinegar, sugar and kosher salt to a small saucepan. Cook over medium heat, stirring occasionally, until the salt and sugar are dissolved. Turn off heat and let the liquid cool.

Roughly chop the dill, leaving a few tall sprigs to place in the jars. Peel the cloves of garlic.

Wash and slice the cucumbers either into spears or into slices. I like my pickles in slices (some people call these pickle chips.) Toss the sliced pickles with the chopped dill.

Put the pickles, garlic and dill sprigs into your jar(s). If you're using more than one jar, divide them evenly. Pour the cooled brine over the cucumbers and garlic, making sure that they're completely covered. Tightly cover the jar(s) and place in the refrigerator for three days.

The pickles will keep for six months in the refrigerator. Enjoy!

One year ago:  My Go-To Blueberry Muffin Recipe
Two years ago:  Delicious Lemon Loaf
Three years ago:  Sprinkle Cookies
Four years ago:  Empanadas
Five years ago:  SNew York Salt Potatoes
Six years ago:  Yotam Ottolenghi's Sweet Corn Polenta with Eggplant Sauce
Seven years ago:  Soft Pretzel Nuggets
Eight years ago:  Frittata with Red Peppers and Peas
Nine years ago:  Chipotle Turkey Chili with Apples and Cheddar
Ten years ago:  Mexican Wedding Cookies
Eleven years ago:  Lemon Mascarpone Mousse
Twelve years ago: Chicken Salad with Apple and Basil



Print This Recipe