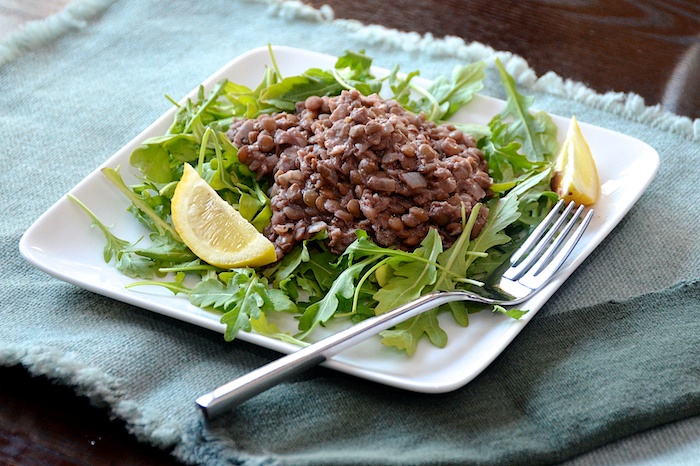 One of our dear neighbors had to go on a sudden trip and dropped off some of his fresh produce with us. He gave us a bag of arugula, among other things. I like arugula, but I don't buy it much. Not sure why. I should. I love its peppery flavor. Did you know that it's also called rocket? Primarily in Europe, but I hear it called rocket here once in a blue moon.
This is a delicious vegetarian meal. These lentils are full of flavor and they go really well with the arugula. I found that they're great as a leftover as well. The flavors deepen overnight.
I modified the recipe slightly to suit the ingredients that I had on hand. I used sour cream. The original recipe called for creme fraiche. I also didn't have any fresh thyme, so I tossed in 1/2 teaspoon of dried. I find fresh herbs to be far superior to dried, but in a pinch, dried works! The original recipe called for Cabernet Sauvignon. I had an open bottle of red wine, not Cabernet which I used, and it was perfect.
When you're making this, take into account the cooking time for the lentils. They need to cook for about 30 minutes.
I so wish the boys would eat this, but alas, no luck. One day, maybe.
Drunk Lentils with Arugula
Recipe adapted slightly from What's Gaby Cooking?

1 cup dried lentils, rinsed and picked over
2 tablespoons olive oil
1 medium-large yellow onion, finely chopped
2 cloves garlic, finely chopped
1/2 teaspoon dried thyme or 1 sprig fresh thyme, small leaves removed and the stem discarded
1/2 cup red wine (preferably Cabernet Sauvignon)
3 tablespoons sour cream
1/2 lemon, juiced
2 cups arugula
Kosher salt and freshly ground black pepper

In a medium pot, bring one cup of lentils and two cups of water to a rapid simmer. Once a rapid simmer is reached, turn the heat to low and gently simmer the lentils for 20-30 minutes, until they're tender and no longer crunchy. Drain any excess water and set the lentils aside.

In a large frying pan, heat the olive oil over medium high heat. Sauté the onions until they're translucent. This will take about 5 minutes. Add the garlic and sauté for 1 minute more until just fragrant.

Add the thyme and the cooked lentils to the skillet and stir to combine.

Add the wine and let the wine cook for about 5 minutes until almost all of the wine is absorbed into the lentils. Turn the heat off, and stir in the sour cream and lemon juice. Season with salt and pepper as needed. This is an important step. The lentils will definitely need salt and pepper. Let the lentils cool for about 15 minutes.

Serve the lentils on a bed of arugula. Yum!


Yield: 4 servings

One year ago: Crab Cakes with Sweet Red Pepper Dressing
Two years ago: Sauteed Scallops with Chablis Cream Sauce
Three years ago: Chicken with Balsamic Barbecue Sauce
Four years ago: Corn and Black Bean Salad with Basil Lime Vinaigrette

Print This Recipe