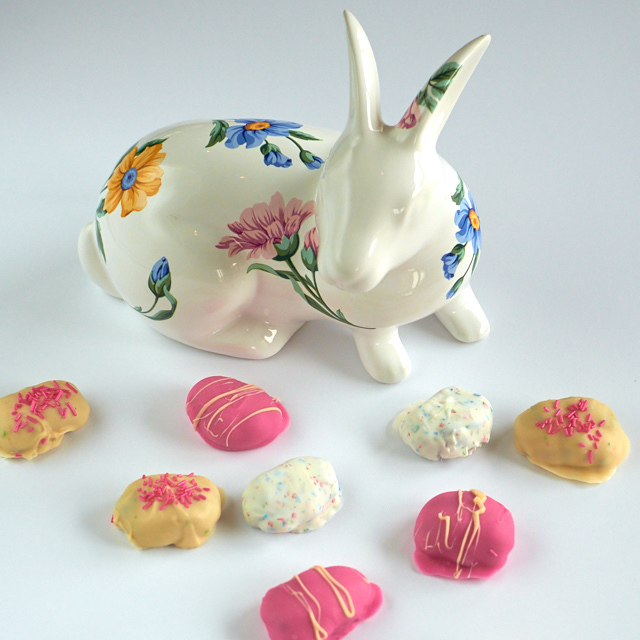 One of my sons made these the other day. He's a huge cookie dough fan. We actually went downtown a couple of weekends ago to a shop called DÕ. All they sell is cookie dough. It's served like ice cream and it's such a phenomenon in NYC that it's almost impossible to get in. We went on a Saturday afternoon and the line snaked down the block and across the street. We were told the wait time was 2.5 hours! There were people attempting to pay huge premiums to the folks at the front of the line to buy them some. The few folks we saw asked, declined. I think I probably would have declined too. Who knew a shop selling cookie dough would be so insanely successful? It's crazy.
I have read a number of articles recently about raw flour potentially containing e-coli, so whenever I am making a dessert with raw flour, I make sure that I cook it first to kill any potential bacteria. 5 minutes in a 350F oven does the trick.
We keep these truffles in the freezer. At a minimum they should be kept in the refrigerator until you serve them. Given the chance, the boys (well, at least three of them – you can actually make that four if you count my husband) would inhale the whole tray. I wish they got as excited about eating their vegetables.
These are a perfect dessert for Easter!
Easter Egg Cookie Dough Truffles
Recipe from Wine and Glue

1/2 cup of butter, softened
3/4 cups packed brown sugar
2 cups all purpose flour
2 teaspoons vanilla extract
i can (14 oz.) sweetened condensed milk
1 cup mini chocolate chips
colored candy melts

Preheat oven to 350 F. Spread the flour onto a baking sheet and bake for 5 minutes. Let cool.

In the bowl of a large stand mixer, cream the butter and the brown sugar until light and fluffy, about two minutes. Mix in the vanilla. Slowly add the flour, scraping down the sides as necessary.
With the mixer still running, slowly add in the sweetened condensed milk. If there is some that is left lining the sides and bottom of the can, leave it. There's no need to scrape every last bit out of the can, or the dough will be too soft. Stir in the chocolate chips.

Form the dough into one inch balls, and then shape into eggs. Place on a parchment paper-lined pan and cover loosely with plastic wrap. Put them into the freezer for about an hour or until quite firm.

Melt the candy melts according to the directions on the bag. Dip the truffles in the candy melts one at a time with a fork. Gently let any excess chocolate drip off, and place them back onto the parchment-lined baking sheet. Let the chocolate dry. Keep refrigerated.

Yield: ~ 40 or so truffles

One year ago: Cabbage and Potato Gratin
Two years ago: Lemon Fusilli with Arugula
Three years ago: Broccoli, Cheddar and Wild Rice Casserole
Four years ago: Chocolate Chip Marshmallow Cornflake Crunch Cookies
Five years ago: Soft Chocolate Cookies with Peanut Butter Frosting
Six years ago: Slow-Cooker Vegetarian Chili with Sweet Potatoes
Seven years ago: Tofu and Onions in Caramel Sauce
Eight years ago: Cinnamon Sugar Rattle Snacks
Nine years ago: Braised Pork Chops

Print This Recipe