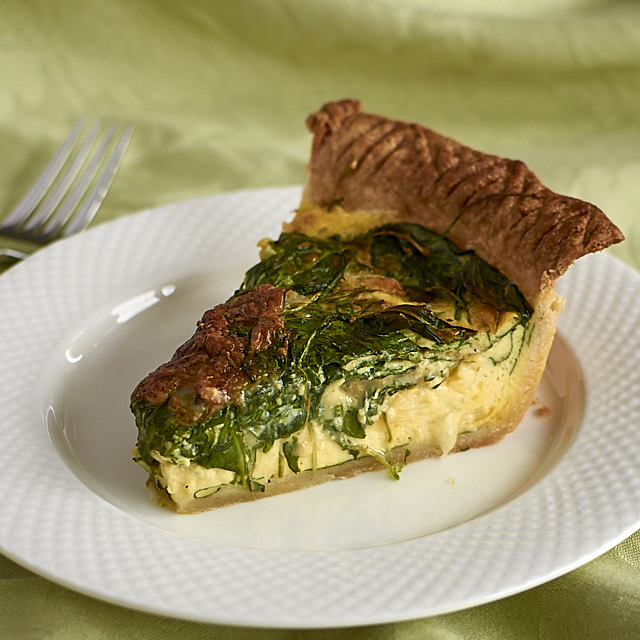 This is definitely the easiest quiche I have ever made, and it's really delicious. The ingredients can be thrown together in under 15 minutes.  I had the quiche ready to bake before my oven preheated.

I have made this quiche will all kinds of cheese. I use whatever I have on hand. It's delicious with Monterrey Jack, cheddar and a mixture of cheddar and mozzarella.

I have made this quiche once a week for the last month. It's great to have in the refrigerator for a quick lunch or dinner.

Will the boys eat it?  Nope.  Some things never change.
Easy Quiche Florentine
Recipe from Dinner Then Dessert

1/2 cup mayonnaise
1/2 cup milk
5 eggs
8 ounces shredded Monterrey Jack cheese
4 cups fresh baby spinach
1/2 teaspoon Kosher salt
1/4 teaspoon white pepper
9 inch deep dish unbaked (frozen) pie shell


Preheat the oven to 400 degrees.

Put the mayonnaise, milk, eggs, salt and pepper into a large bowl and whisk until well combined.  Add the cheese and mix well.  Add the spinach and stir to combine.  Pour the mixture into the unbaked pie shell. 

Top with foil and bake for 50 minutes. Remove foil and bake for an additional 10 minutes.

Yield: 6 – 8 servings


One year ago: Gingerbread Biscotti
Two years ago: Easter Egg Cookie Dough Truffles 
Three years ago: Cabbage and Potato Gratin
Four years ago: Lemon Fusilli with Arugula
Five years ago: Broccoli, Cheddar and Wild Rice Casserole
Six years ago: Olive Garden Bread Sticks
Seven years ago: Soft Chocolate Cookies with Peanut Butter Frosting
Eight years ago: Weeknight White Chicken Chili
Nine years ago: Tofu and Onions in Caramel Sauce
Ten years ago: Scallops Provencal
Eleven years ago: Braised Pork Chops


Print This Recipe