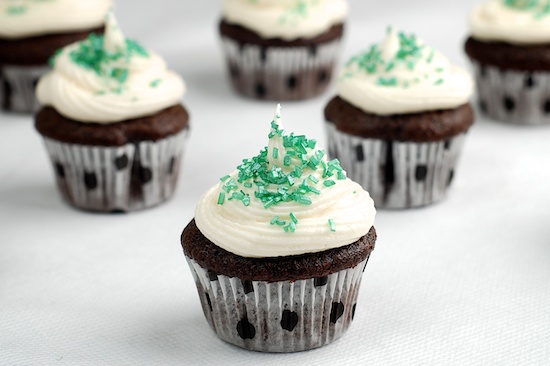 We had some friends over for dinner the other night and none of them eat eggs. It's easy to make a dinner that doesn't include eggs, but for me, dessert was more of a challenge. I knew I wanted to serve this delicious vanilla frozen yogurt with blueberries on top. It's always a hit, but the problem was that we were four adults and seven children. My ice cream maker can't make enough to serve that many, so I needed something else. When searching for eggless dessert recipes, I came across a number of cake recipes that didn't contain eggs and I settled on this one. I was very skeptical when I looked at the ingredient list but much to my surprise, these cupcakes were delicious. In addition, they were surprisingly moist.
I was surprised to see vinegar on the ingredient list for these cupcakes, but then I recalled hearing that some baked goods do contain vinegar (an acid), which reacts with baking soda to create carbon dioxide, which causes the cupcakes to rise. I didn't have white vinegar on hand, so I used white wine vinegar. Next time, I might try cider vinegar. There was no discernible vinegar taste in the cupcakes, which was a good thing.
We ate the cupcakes the same day I made them. I can't attest to how they'd be if you made them the night before and wrapped them up to be eaten the next day. If anyone tries it, please let me know how they are.
I chose to make mini cupcakes because they're perfect for small hands. I made a standard vanilla butter cream frosting for them. I'll definitely make these again.
Egg-Free Chocolate Cupcakes
Recipe adapted from AllRecipes.com

1 1/2 cups all-purpose flour
1/2 teaspoon salt
1 cup white sugar
1/4 cup unsweetened cocoa powder
1 teaspoon baking soda
5 tablespoons vegetable oil
1 tablespoon white vinegar
1 teaspoon vanilla extract
1 cup chocolate soy milk

Preheat oven to 350 degrees F (175 degrees C). Line a cupcake pan with paper liners or grease the pan well.

In a large bowl, combine flour, salt, sugar, cocoa powder, and baking soda. Mix well with a fork, then stir in oil, vinegar, and vanilla extract. When dry ingredients are thoroughly moistened, pour in the soy milk and stir until batter is smooth. Pour the batter into the cupcake pan.

Bake in preheated oven for 10-12 minutes for mini cupcakes and 20 – 22 minutes for regular cupcakes or until a toothpick inserted in center comes out clean. Cool on a rack.

Yield: 12 standard cupcakes or 24 mini cupcakes

One year ago: Marshmallows
Two years ago: Smoky Black Bean and Cheddar Burrito with Baby Spinach
Three years ago: Caramelized Spiced Nuts
Four years ago: Fresh Corn with Shrimp and Cherry Tomatoes

Print This Recipe