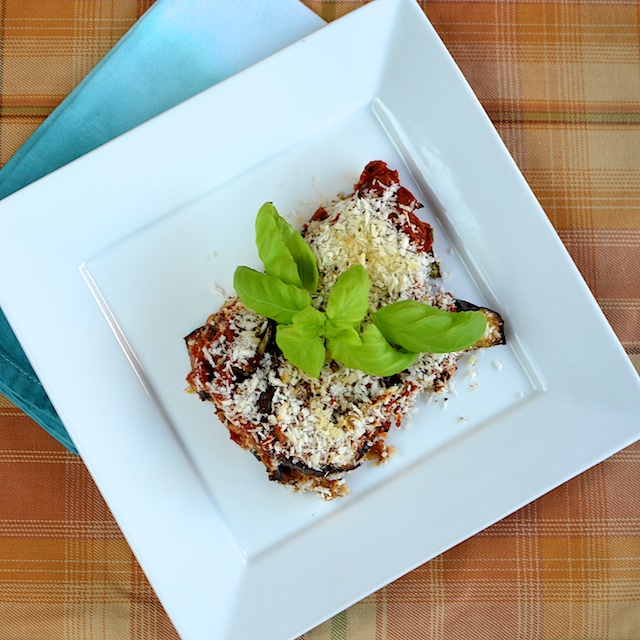 Here's a recipe that I found on Mark Bittman's website. I'm always looking for good vegetarian/vegan recipes because we're trying to eat less meat and because of our friends' dietary preferences/restrictions. When I looked at this recipe, I thought it might be a bland vegetarian side dish, but I was willing to give it a try anyway. Au contraire! It's loaded with flavor and it was really delicious.
When you make this, don't skimp on the fresh basil. Use it, and use a whole cup of it as specified in the recipe. It's good. I had a can of fire-roasted diced tomatoes, so I used it in lieu of the plain diced tomatoes. It gave the recipe a little extra oomph.
When I made this, I found the sauce to be very chunky. I ended up with two layers of eggplant, and I actually used all of the sauce when I assembled the dish. I guess I didn't follow their instructions about using a "thin layer" of sauce between layers. Perhaps I also didn't cook the sauce long enough for the tomatoes to completely soften and get saucy. Regardless, I thought this was delicious. I loved that it was loaded with chunky, flavorful tomato layers.
The recipe calls for whole wheat breadcrumbs. I didn't have any whole wheat bread kicking around (our boys are white bread fans – surprise, surprise) so I ended up using Panko, which worked perfectly.
This takes at least an hour to make, so allow that much time when you're preparing it. I'll definitely make this again. It was perfect reheated for lunch the next day.
Eggplant Un-Parmesan
Recipe by Mark Bittman

2 1/2 pounds eggplant
5 Tablespoons olive oil
1 1/4 teaspoons salt, plus more to taste
Black pepper to taste
1 onion, chopped
2 Tablespoons minced garlic
2 28-ounce cans diced tomatoes, with their juice
1 cup chopped fresh basil leaves
1 cup whole wheat breadcrumbs, preferably coarse-ground (or Panko)

Heat the oven to 450°F and position two racks so that they have at least 4 inches between them. Spray two rimmed baking sheets with a light coating of oil.  Cut the eggplant crosswise into 1/2 inch slices and arrange them on two rimmed baking sheets.

Use about 2 tablespoons of the oil to brush the top of each eggplant slice and sprinkle them with 1/2 teaspoon salt and some pepper. Roast the eggplant until the slices brown on the bottom and sides, 10 to 15 minutes; turn and cook the other side until they're crisp in places and golden, another 5 to 10 minutes. When they finish cooking, remove them from the oven and lower the heat to 400ºF.

Meanwhile, put 2 Tablespoons of the oil in a large skillet over medium heat. When it's hot, add the onion, sprinkle with another 1/2 teaspoon of salt, and cook, stirring occasionally, until soft, 3 to 5 minutes. Add the garlic and cook, stirring, for 1 minute. Add the tomatoes and cook, stirring occasionally, until the tomatoes break down and the mixture comes together and thickens, 20 to 25 minutes. Taste and adjust the seasoning.

Cover the bottom of a 9 by 13-inch baking dish with about ½ inch of the tomato sauce. Nestle a layer of eggplant into the sauce and top with some of the basil. Cover with a thin layer of tomato sauce and repeat until all the eggplant is used up; reserve some of the basil for serving. Sprinkle with the breadcrumbs, the remaining 1/2 teaspoon salt, and lots of pepper, and drizzle with the remaining tablespoon of oil. Simmer the remaining sauce (you should have about 2 cups) over medium-low heat, stirring occasionally, while the eggplant bakes.

Bake until the breadcrumbs are golden and the sauce has thickened, 15 to 20 minutes; let rest for 10 minutes before serving. Serve hot, warm, or at room temperature, garnished with the remaining basil; pass the remaining sauce at the table (or refrigerate or freeze it for another use).

Yield: 4 servings

One year ago: Peanut Butter Blossoms
Two years ago: Ginger Scones
Three years ago: Cherry Banana Muffins with White Chocolate Chips
Four years ago: Classic Dinner Rolls
Five years ago: Malted Milk Ball Cookies

Print This Recipe