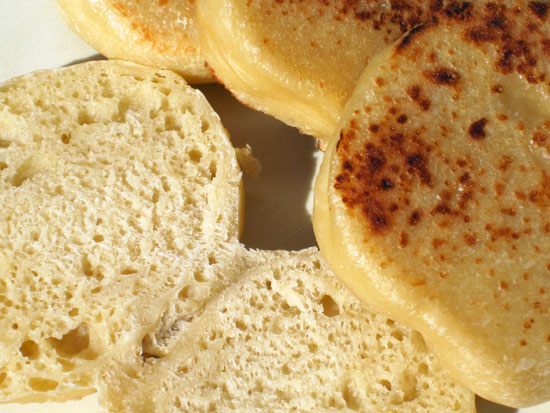 I made some Naan last week that turned out very well. It involved yeast, so I was actually surprised that I didn't wreck it.   I don't usually do well with yeast. Since I bought a 3-pack of yeast and I had some success with the Naan, I looked for something else to make. I've always wanted to make my own English Muffins, so I decided to give them a shot.   I had some challenges when making them and at one point I almost threw them all away, but I was convinced not to.
Whenever I cook with yeast, it never actually foams the way it's supposed to.   I've read lots of blogs and recipes for making bread and everyone describes how the yeast gets foamy and bubbly.    Mine never seems to do that.   I don't know if my water is too hot or too cold, or what the problem is.    I do well with the Mark Bittman no-knead bread that rises on its own overnight, but don't have much luck with the breads that are supposed to rise in an hour or two.    Well, my yeast didn't foam as it should and I used it anyway.   The dough didn't rise as much as I thought it should either.     After several hours, I rolled out the dough and cut it into circles using a drinking glass.    I put the rounds on a cookie sheet and left them to rise overnight under a damp towel.    Again, they didn't rise as much as I hoped they would and in the morning I was tempted to throw them away, but I cooked them anyway.   I didn't have any corn meal so I skipped that step.    I did cook them in a pan until each side was brown.    I then put the cooked muffins in a 375 degree oven for a couple of minutes just to make sure that they were cooked.   I probably could have skipped this step and in the future I think I will.
I'll definitely try to make these again because my boys inhaled them!    Before I do, I'll try to figure out how to have some more success with yeast.   The original recipe called for shortening, but I used butter instead.
The picture below was taken last week on Shelter Island just before we left for the season. The flowers are from the CSA and the peach jam is from our dear friend Mrs. Eldredge. She lives in Unity, ME and makes the best jam I've ever had. It's always such a treat to receive some from her. We look forward to it every year.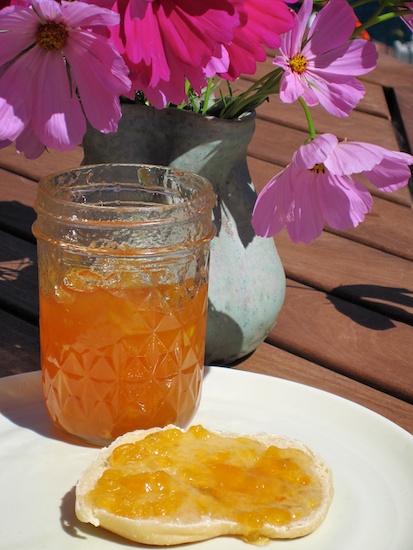 English Muffins
Recipe adapted from allrecipes.com

1 cup milk
2 tablespoons white sugar
1 (.25 ounce) package active dry yeast
1 cup warm water (110 degrees F/45 degrees C)
1/4 cup melted butter
6 cups all-purpose flour
1 teaspoon salt
1/4 cup  cornmeal
Warm the milk in a small saucepan until it bubbles, then remove from heat. Mix in the sugar, stirring until dissolved. Let cool until lukewarm. In a small bowl, dissolve yeast in warm water. Let stand until creamy, about 10 minutes.

In a large bowl, combine the milk, yeast mixture, shortening and 3 cups flour. Beat until smooth. Add salt and rest of flour, or enough to make a soft dough. Knead. Place in greased bowl, cover, and let rise in a warm spot.

Punch the dough down. Roll out to about 1/2 inch thick. Cut rounds with biscuit cutter or a drinking glass. Sprinkle waxed paper with cornmeal and set the rounds on this to rise. Dust tops of muffins with cornmeal also. Cover and let rise 1/2 hour in a warm spot (I put mine in the oven to rise).

Heat greased griddle. Cook muffins on griddle about 10 minutes on each side on medium heat. Keep baked muffins in a warm oven until all have been cooked. Allow to cool and place in plastic bags for storage. To use, split and toast. Great with butter, cream cheese and/or jam.

Yield: 18 muffins

Print This Recipe