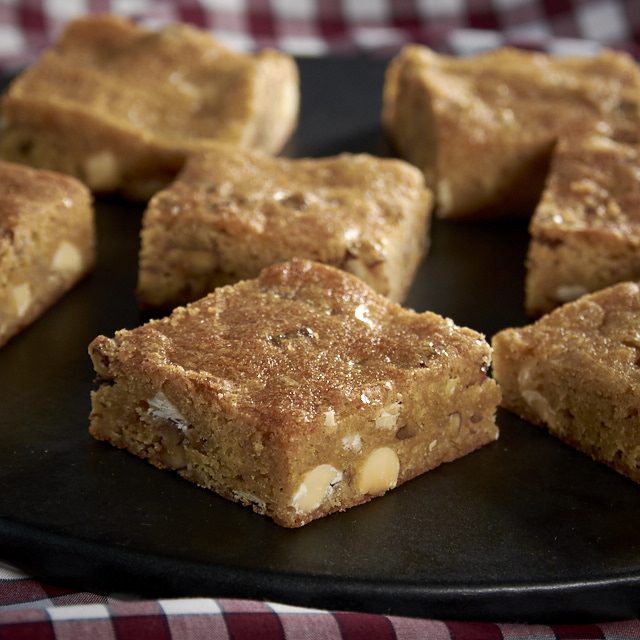 There's not much to say about these other than I think they're the best blondies I've ever made. Hands down. The combination of the toasted pecans and white chocolate (and lots of vanilla) make these excellent. If you're a blondie fan, try these. This is now my go-to blondie recipe.

Although I think these are incredible, the family was split on them. Only three of us loved them. The other three complained about the nuts.

Love that this recipe doesn't require a blender.
Blondies
Recipe from Cooks Illustrated via Food52

1 cup pecans or walnuts (4 ounces)
1 1/2 cups unbleached all-purpose flour (7 1/2 ounces)
1 teaspoon baking powder
1/2 teaspoon table salt
12 tablespoons unsalted butter ( 1 1/2 sticks), melted and cooled
1 1/2 cups packed light brown sugar (10 1/2 ounces)
2 large eggs, lightly beaten
4 teaspoons vanilla extract
6 ounces white chocolate chips (1 cup) or chopped bar, or 3 ounces each white chocolate and semisweet chocolate chips


Adjust oven rack to middle position; heat oven to 350° F. Spread nuts on large rimmed baking sheet and bake until deep golden brown, 5 to 10 minutes. Keep an eye on the nuts. They can burn easily. Transfer nuts to cutting board to cool; chop coarsely and set aside.

While nuts toast, line a 13 by 9-inch baking pan with foil, leaving enough overhang to help you lift the blondies from the pan when they're done. Grease foil-lined pan with butter or oil.

Whisk flour, baking powder, and salt together in medium bowl; set aside.

Whisk melted butter and brown sugar together in medium bowl until combined. Add eggs and vanilla and mix well. Using rubber spatula, fold dry ingredients into egg mixture until just combined; do not overmix. Fold in chocolate and nuts and turn batter into prepared pan, smoothing top with rubber spatula.Bake until top is shiny, cracked, and light golden brown, 18 to 22 minutes; do not overbake.

Cool on wire rack to room temperature. Remove bars from pan by lifting foil overhang and transfer to cutting board. Cut into 2-inch squares and serve.

Yield: 36 bars


One year ago: Delicious Lemon Loaf
Two years ago: Cacio e Pepe Potatoes Anna
Three years ago: Salted Brown Butter Rice Krispie Treats
Four years ago: Texas Sheet Cake
Five years ago: Chock-Full-of-Chips Drops
Six years ago: Chocolate Whoopie Pies with Salted Peanut Butter Filling
Seven years ago: Tzatziki Potato Salad
Eight years ago: Super Moist Banana Bread
Nine years ago: Chocolate Hazelnut Biscotti
Ten years ago: Snickerdoodle Blondies
Eleven years ago: Blueberry Coffee Cake Muffins



Print This Recipe