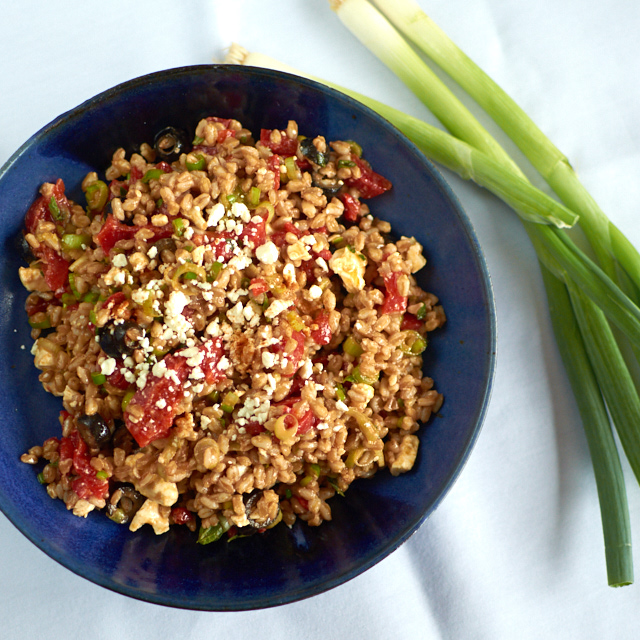 Yotam Ottolenghi is an Israeli-British chef whose vegetarian recipes are some of my favorites. With a strong focus on fresh, varied flavors, his dishes are always more that the sum of their parts.
If you're not used to cooking with farro, give it a try, it's an "old world grain" that is becoming increasingly popular. It's high in fiber and has a nice chewy texture. It's great paired with flavorful dressings like this one.
The original recipe calls for roasting fresh red peppers. I took a short cut and used jarred, roasted red peppers. I also used oregano rather than thyme. Splurge for fresh herbs. Since Ottolenghi is a British chef, his measurements for many things are in grams, which you'll see below in the recipe. I whipped out my kitchen scale to measure the farro when I made this. If you don't have a kitchen scale, use a scant 3/4 cup of farro.
The flavors in this dish are unique. The smoky paprika paired with the honey and the allspice make for a bold and delicious dressing. This recipe is a keeper.
Farro and Roasted Red Pepper Salad
Recipe from Yotam Ottolenghi

100g farro
2 jarred, roasted red peppers
10 marinated pitted black olives, quartered lengthways
1 Tablespoons chopped fresh oregano (or thyme leaves)
3 scallions, white and green parts thinly sliced
100g feta, broken into large chunks

Dressing:
Juice of 1 medium lemon
3 Tablespoons olive oil
1 Tablespoon honey
1/2 teaspoon ground allspice
1/2 teaspoon smoked paprika, plus extra
1/2 garlic clove, crushed
1/2 teaspoon fine sea salt

Cook the farro according to the directions on the box. Typically this will take ~25-30 minutes. When cooked, strain it and let it cool.

Whisk all the dressing ingredients in a bowl and set aside.

Slice the red peppers into bite-sized pieces. Put the farro in a big bowl and add the peppers, olives, oregano, scallions and most of the feta. Pour over the dressing and gently mix together. Taste, and add more salt if you like. To serve, pile up the salad on a plate or in a bowl, and finish with the remaining feta and a sprinkling of paprika.

Yield: 2 servings if used as a main dish and 4 servings if used as a side dish

One year ago: Fudge-Striped Shortbread Cookies
Two years ago: Texas Sheet Cake
Three years ago: Chock-Full-of-Chips Drops
Four years ago: Chocolate Sheet Cake with Delicious Vanilla Frosting
Five years ago: Pasta and White Beans with Broccoli Pesto
Six years ago: Carrot-Coconut Milk Soup
Seven years ago: Mexican-Style Slaw with Jícama, Cilantro and Lime
Eight years ago: Vanilla Brown Sugar Breakfast Polenta
Nine years ago: Chick Pea Soup

Print This Recipe