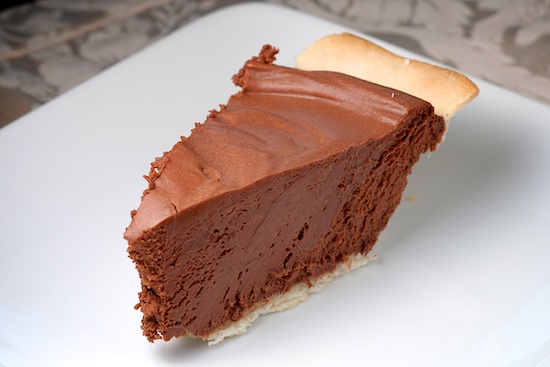 We had some friends over for dinner the other night,  a couple with their 9-year old son, so I decided to make this French silk pie for dessert.   It looked delicious and decadent, and indeed it was.   I'm never one to risk not having enough food, so when I saw that this pie served 8 and we were going to be 9 that night, I decided to make two of them.  That was definitely not necessary.   This pie is so rich that a very thin slice suffices.   I served the pie topped with fresh whipped cream that I made by pouring a half-pint of heavy cream into my stand mixer with a little bit of confectioners sugar and a splash of vanilla extract and whipping it up using the whisk attachment.    I had the whipped cream mixing as I was clearing the dinner dishes from the table.    I really love my stand mixer!
This pie was fairly easy to make.   The toughest part is standing over the stove and whipping the egg mixture for 10 minutes until it reaches the desired temperature.   I have to admit that I did cheat and buy pre-made pie crusts – the kind that you unroll and put into your own pie plates.    Next time I'll make my own crust.
I wish I had photographed it with a dollop of whipped cream on top.   When I served the pie, the whipped cream hid all of the blemishes.
French Silk Chocolate Pie
Recipe from Christopher Kimball of Cook's Country, as seen on the Today Show

For pie crust:
1 1/4 cups all-purpose flour
1 tablespoon sugar
1/2 teaspoon salt
3 tablespoons vegetable shortening, cut into 1/4-inch pieces and chilled
4 tablespoons (1/2 stick) unsalted butter, cut into 1/4-inch pieces and chilled
4-6 tablespoons ice water

For the pie:
1 cup heavy cream, chilled
3 large eggs
3/4 cup sugar
2 tablespoons water
8 ounces bittersweet chocolate, melted and cooled
1 tablespoon vanilla extract
8 tablespoons (1 stick) unsalted butter, cut into 1/2-inch pieces and softened

For crust:

Process the flour, sugar, and salt together in a food processor until combined. Scatter the shortening over the top and process until the mixture resembles coarse cornmeal, about 10 pulses. Scatter the butter pieces over the top and pulse the mixture until it resembles coarse crumbs, about 10 pulses. Transfer the mixture to a bowl.

Sprinkle 4 tablespoons of the ice water over the mixture. Stir and press the dough together, using a stiff rubber spatula, until the dough sticks together. If the dough does not come together, stir in the remaining water, 1 tablespoon at a time, until it does.

Turn the dough onto a sheet of plastic wrap and flatten into a 4-inch disk. Wrap the dough tightly in the plastic wrap and refrigerate for at least 1 hour, or up to 2 days. Before rolling out the dough, let it sit on the counter to soften slightly, about 10 minutes.

Roll the dough on a lightly floured counter to a 12-inch circle, about 1/8 inch thick. Fit the dough into a 9-inch pie plate, letting the excess dough hang over the edge. Following the photos, trim, fold, and crimp the edges. Freeze the unbaked pie crust until firm, about 30 minutes, before filling or baking.

For the pie:

Adjust an oven rack to the lower-middle position and heat the oven to 375 degrees.

If you are using a premade pie crust, follow the package directions to cook the crust.  If you are following these directions to make your own, remove the prepared pie shell from the freezer. Line the chilled pie crust with a double layer of foil, covering the edges to prevent burning, and fill with pie weights or pennies. Bake until the pie dough looks dry and is light in color, 20 to 25 minutes. Remove the weights and foil and continue to bake until the crust is deep golden brown, 10 to 15 minutes.

Set the crust aside and cool to room temperature.

In a medium bowl, whip the cream with an electric mixer on medium-low speed until frothy, about 1 minute. Increase the speed to high and continue to whip until the cream forms stiff peaks, 1 to 3 minutes. Cover and refrigerate until needed.

Combine the eggs, sugar, and water in a large heatproof bowl set over a medium saucepan filled with 1/2 inch barely simmering water (don't let the bowl touch the water). Beat with an electric mixer on medium speed until the egg mixture is thickened and registers 160 degrees, 7 to 10 minutes. Off the heat, continue to beat the egg mixture until fluffy and cooled to room temperature, about 8 minutes longer.

Add the cooled chocolate and vanilla to the egg mixture and beat until incorporated. Beat in the butter, a few pieces at a time, until well combined. Using a spatula, fold in the whipped cream until no streaks of white remain. Scrape the filling into the cooled pie shell and refrigerate until set, at least 3 hours, and up to 24 hours. Serve.

Yield:   8 – 10 servings

One year ago: Beef, Cheddar and Potato Pie
Two years ago: Mexican Chocolate Tofu Pudding
Three years ago: Blueberry Muffins

Print This Recipe