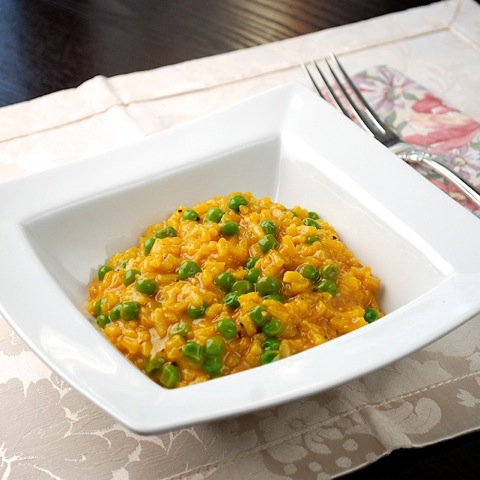 Made this the other night for dinner. Although it takes 20+ minutes of standing at the stove and stirring, I thought it was well worth it. The risotto was delicious. Incredibly filling too.
Risotto is an Italian dish that's usually served as a first course. It's never a quick dish to make, as you have to continually stir the rice until it has absorbed all of the liquid, leaving it in a thick, creamy, comforting sauce.
The carrot juice (I bought mine rather than juicing carrots myself) gives the risotto a rich color and a really nice flavor. There's no question that I'll make this over and over.
Fresh Carrot Risotto
Recipe from Food & Wine

4 cups chicken stock, preferably homemade (you can substitute vegetable stock to make this a vegetarian meal)
2 cups carrot juice
2 tablespoons extra-virgin olive oil
1 large shallot, finely chopped
1 1/2 cups arborio rice (10 ounces)
1/2 cup dry white wine
2 1/2 tablespoons white wine vinegar
1/2 cup freshly grated Parmigiano-Reggiano cheese
2 tablespoons unsalted butter
Salt
Freshly ground pepper
1 cup frozen baby peas

In a medium saucepan, bring the stock and carrot juice to a simmer; keep warm.

In a large saucepan, heat the olive oil. Add the shallot and cook over moderate heat, stirring, until softened, about 4 minutes. Add the rice and cook, stirring, until slightly milky colored, about 1 minute. Add the wine and 2 tablespoons of the vinegar and cook, stirring, until the liquid is absorbed. Stir in the hot stock mixture, 1 cup at a time, stirring constantly and adding more stock once it has been absorbed, about 20 minutes total; the rice should be al dente and suspended in a thick, creamy sauce. Add the cheese and 1 tablespoon of the butter, season with salt and pepper and stir until creamy.

In a medium skillet, melt the remaining 1 tablespoon of butter. Add the peas, season with salt and pepper and cook over moderately high heat until warmed through, about 1 minute. Add the remaining 1/2 tablespoon of vinegar to the peas, then fold into the risotto. Serve immediately.

Yield:  4 servings

One year ago: Avocado Vichyssoise
Two years ago: Spicy Chicken Barley Soup with Sweet Potatoes and Spinach
Three years ago: Mediterranean Farro Salad
Four years ago: Pan-Seared Shrimp with Garlic-Lemon Butter

Print This Recipe