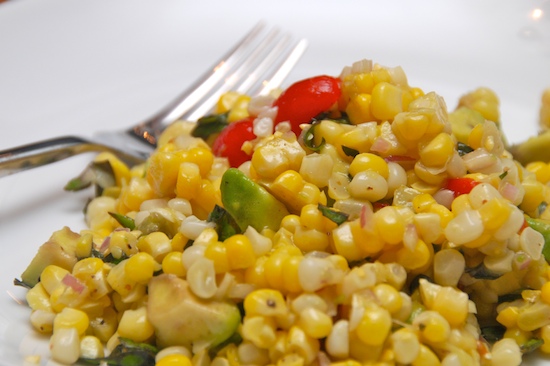 There is nothing better than fresh corn in the summertime. Fresh corn and heirloom tomatoes are two of my favorite summertime viands. My girlfriend Kathleen sent me this recipe a week or so ago. Man, is it good.
I served this for dinner tonight and everyone who tried it loved it. You really can't beat fresh produce in the summer. The dressing pulls the veggies together into a great salad. That said, I bet it would have been delicious without the dressing.
I served this with bean burgers and a really great green salad. In my book, a perfect vegetarian meal.
Fresh Corn and Avocado Salad
Adapted from Sunset Magazine

6 ears corn
2 cups halved cherry tomatoes
1/2 cup diced red onion
1 large avocado, cut into 1/2-in. cubes
1/3 cup chopped fresh basil leaves
2 tablespoons white wine or champagne vinegar
1 teaspoon Dijon mustard
1/4 cup extra-virgin olive oil
1/4 teaspoon kosher salt
1/4 teaspoon sugar
1/4 teaspoon freshly ground black pepper

In a large pot of boiling water, cook corn until warmed through, 3 to 5 minutes. Rinse with cold water until cool. Meanwhile, combine tomatoes, onion, avocado, and basil in a large bowl. In a small bowl, combine remaining ingredients to make the vinaigrette, whisking until blended.

Cut corn kernels off cobs and add to salad, then pour in vinaigrette and toss gently to combine.

Yield: 6 servings

Print This Recipe