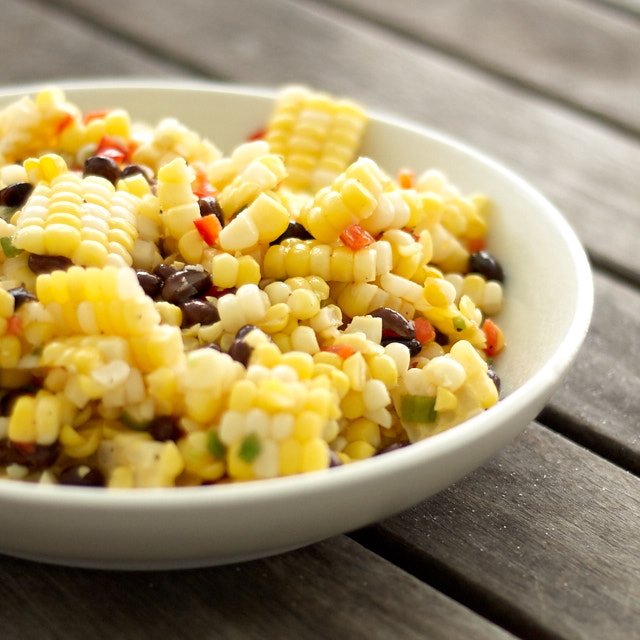 We have the most wonderful neighbors on Shelter Island and this recipe came from one of them. Our neighbor Jessie is famous for her corn salad, which highlights the best of summer's produce in a very simple but incredibly delicious recipe. This is a perfect recipe for fresh corn season, which is August if you live in the Northeast. In New York City, we're at the tail end of corn season. I still see some at the farmer's markets, but it's dwindling with my favorite heirloom tomatoes. I"m now seeing lots of different varieties of squash like butternut, acorn, etc.. The weather in NYC is still fairly mild, so I'm not yet ready for warm-weather food which I consider squash to be.
The next time I make this salad, I will add a little fresh cilantro. I think it will make a nice addition to the simple flavors. Fresh basil might be something nice to try as well. With all of the fresh vegetables, this salad is like summer on a plate.
I loved the version that I made, but I have to say that it tastes better when Jessie makes it. For me, almost anything that someone else makes tastes better than my own cooking.
You can easily cut this recipe in half if you're not feeding an army.
Fresh Corn Salad
Recipe from Jessie Lacombe

10 ears of fresh corn-on-the-cob
1 red bell pepper, chopped into 1/4 inch pieces
3-4 scallions, white and green parts chopped
1 can black beans (~15 oz.)
5 Tablespoons white balsamic vinegar
5 Tablespoons olive oil
2 Tablespoons chopped cilantro or basil (optional)
salt and pepper

In a large pot of boiling water, cook the corn for 3 minutes. Drain. When the corn is cool enough to touch, cut the kernels from the cobs and place in a large bowl. Rinse and drain the black beans and add to the corn. Add the red pepper, scallions and cilantro or basil if using. Toss the vegetables.

Whisk the olive oil and vinegar and pour on the salad. Salt and pepper to taste. Serve.

Yield: 8 servings
One year ago: Summer Squash Casserole
Two years ago: Rosemary Butter Cookies
Three years ago: Southwestern Chopped Chicken Salad
Four years ago: German Potato Salad
Five years ago: Cottage Cheese Pancakes
Six years ago: Fresh Pear Pie with Dried Cherries and Brown Sugar Streusel 
Seven years ago: Lemon Chamomile Shortbread
Eight years ago: Creamless Creamy Tomato Soup

Print This Recipe