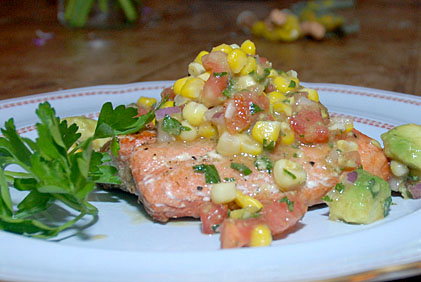 In my book there's nothing better than fresh vegetables in the summertime.   One of my favorite things to do is to stop at a farmstand, see what's fresh and then figure out what to do with it.  At this time of year you can't beat the fresh corn.  It's incredibly sweet and delicious.
The other night, our friend Anthony was visiting us on Shelter Island.  He loves to cook so we decided to make this salmon with fresh corn relish.   We threw the salmon on the grill and when it was done threw the corn salsa on top of it, and boy was it good.   Like I said, you can't beat fresh corn in the summertime which makes this a  perfect summer recipe.
In addition to topping the salmon, the salsa is good on its own with chips.  Enjoy!
Grilled Salmon with Sweet Corn, Tomato and Avocado Relish
Recipe from Emeril Lagasse

2 large ears fresh yellow corn, peeled and silk removed
2 vine-ripened tomatoes, cored and cut into 3/4-inch dice (about 2 cups)
6 tablespoons finely chopped red onions
2 tablespoons chopped fresh parsley leaves
2 tablespoons extra-virgin olive oil
1 tablespoon fresh lemon juice
2 teaspoons salt
1/2 teaspoon freshly ground white pepper
4 (6 ounce) salmon fillets with the skin
1 tablespoon olive oil
1/2 teaspoon Essence, recipe follows

Bring a medium saucepan of water to a boil.  Add the corn and simmer until tender, about 4 minutes.  Drain.  When cool enough to handle, cut the kernels from the ear and place in a medium bowl.  To the corn, add the tomatoes, avocados, onions parsley, lemon juice, 1 teaspoon of the salt, and 1/4 teaspoon of the pepper.  Toss to combine and set aside.   Preheat the grill to medium-high heat.

Lightly brush the fillets with the olive oil and season each on the flesh side with 1/8 teaspoon of the Essence, and 1/4 teaspoon of the remaining salt, and a pinch of the remaining white pepper.  Add to the grill, skin side down, and cook until the skin is crisp, 4 to 5 minutes.  Turn and cook until the salmon is opaque and medium-rare, about 4 minutes, depending upon the thickness of the fillets.  (Diane's note – I cook my fish a little longer because I like it cooked all the way through.)

Spoon the relish over the fish, garnish each plate with a sprig of parsley, and serve immediately.

Serves 4

Emeril's ESSENCE Creole Seasoning (also referred to as Bayou Blast):

2 1/2 tablespoons paprika
2 teaspoons salt
2 tablespoons garlic powder
1 tablespoon black pepper
1 tablespoon onion powder
1 tablespoon cayenne pepper
1 tablespoon dried oregano
1 tablespoon dried thyme

Combine all ingredients thoroughly.    Makes 2/3 cup.

Print This Recipe