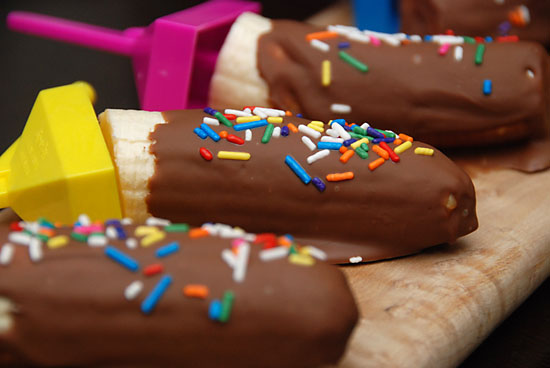 These are incredibly easy to make and SO delicious, especially if you make them with a good bar of chocolate.   I like milk chocolate, but these would also be great with semi-sweet chocolate as well.   If you're not a big fan of sprinkles, try rolling the bananas in nuts.  Yum!  They're a great, fun warm-weather dessert.
Ok, so you know that my boys are picky eaters, but I figured I'd have all four of them with this recipe.  Guess what — no such luck.   Only two out of the four tried them.   One of my sons refuses to eat any fruit or vegetable with one exception.   He immediately turned his nose up at these.   I was actually quite surprised by the second rejection – he wouldn't even taste them.   Go figure.   Well, two out of four ain't bad.
Again, I'll be eternally grateful if you can share any tips that will get my picky eaters to eat.
Frozen Chocolate Covered Bananas

3 firm bananas
1 bar (3.5 – 4 oz.) of good milk chocolate (I used a bar of Lindt milk chocolate)
6 wooden skewers or popsicle sticks

sprinkles

Melt chocolate in the microwave (if you have a setting for melting chocolate), or in small saucepan on low heat, stirring constantly until smooth. Pour chocolate mixture into a shallow bowl and set aside.  Peel bananas and cut in half.   Put a skewer into the flat end of each banana half and dip the bananas into the melted chocolate.   Use a spoon to make sure the chocolate coats the bananas evenly.   Dust with sprinkles.   Place on a wax paper lined tray.   Put them in the freezer for at least 30 minutes, or until you're ready to eat them.  Once the chocolate has hardened, you can wrap each banana individually in plastic wrap so they stay fresh until you're ready to eat them.

Yield:  6 pops

Print This Recipe