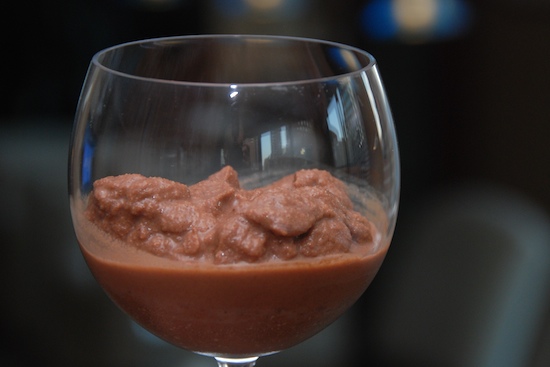 There's a restaurant in NYC called Serendipity 3 that has been around for ages. It's knows for its desserts, especially its Frozen Hot Chocolate which is to die for. Well for our family, there's no need to go across town to Serendipity any more.   We've got frozen hot chocolate right here.
This recipe is from Mark Bittman.  My niece just gave me several cookbooks as a gift and Kitchen Express by Mark Bittman was one of them.   I LOVE Mark Bittman's recipes.   They're so simple and straightforward.   In Kitchen Express, everything can be made in under 20 minutes, which is very appealing when you have four small sons who all seem to need attention at the same time.    In the coming months, I think you'll see a lot of recipes from this cookbook.
The frozen hot chocolate is surprisingly filling.  I thought I'd be able to eat quite a bit of it, but was amazed to find that a small cup was very satisfying.  Do try this.   It's a quick and easy dessert that's different.   Next time I think I'll throw a little Baileys, Amaretto or Kahlua into it.
Frozen Hot Chocolate
Adapted from Kitchen Express by Mark Bittman

6 oz. good dark chocolate (you can always substitute chocolate chips if that's all you have in the house)
~2 teaspoons sugar, or to taste
1/4 cup cream or half-and-half
3 cups of ice

Melt chocolate and cream in a pan over low heat. Stir the chocolate while melting to ensure that it doesn't burn. Add sugar to taste. Pour the chocolate mixture into a blender with the ice and blend until you get an even consistency. If your blender has any trouble, you can always add a tiny bit of cream or water to make it blend more easily. Serve in glasses or small bowls.

Yield: 6 servings

Print This Recipe