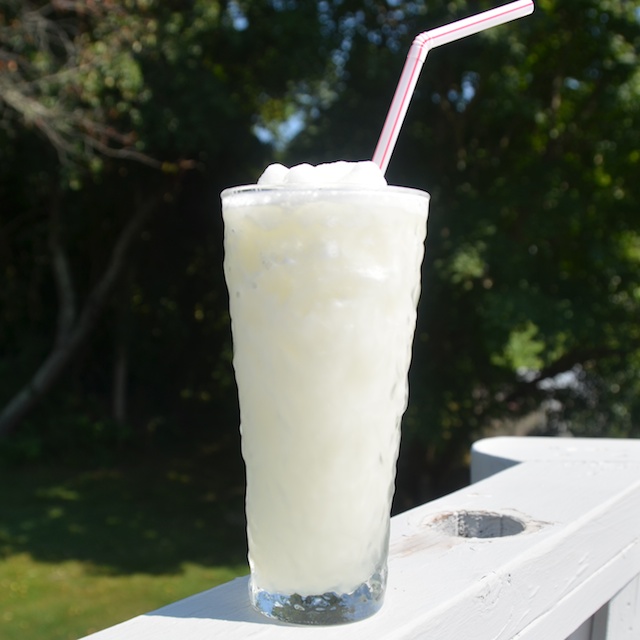 This is our drink of the summer. The boys LOVE it! It's perfect on a hot summer afternoon. The only problem I have with it is it gives me the ice cream headache (scientifically known as sphenopalatine ganglioneuralgia) almost immediately.  It's crazy.  Clearly I'm drinking it too quickly.
I use bottled lemon juice when I make it. I would squeeze fresh lemons, but it would take me forever to squeeze enough for the whole family, and no one has complained that the lemon juice comes from a bottle, so I'm sticking with it. I fear that if I make it with fresh lemon juice I'll never be able to go back.
I have a Vitamix blender which makes the creation of smoothies and drinks like this a breeze. It chops the ice incredibly finely and uniformly in no time at all. It's one of my favorite kitchen appliances along with my KitchenAid stand mixer.
If you're looking for the perfect summer afternoon treat, this is it!

Frozen Lemonade

4 cups of ice cubes
1/2 cup lemon juice
1/2 cup water
1/2 cup sugar

Put all of the ingredients into a good blender and mix until all of the ice is crushed and the drink looks like slush.

Yield:  2 servings

One year ago: Homemade Hamburger Buns
Two years ago: Southern Biscuits
Three years ago: Raspberry Maple Scones
Four years ago: Peanut Butter Pancakes with Chocolate Chips
Five years ago: Double Chocolate Cookies


Print This Recipe